Asbestos handling and removal
Asbestos Awareness Week – 23-29 November 2020

Asbestos lurks in more places than you'd think.
Do you know if your home was built before the 1990s there's a good chance it has some asbestos?
Do you know it's often found under flooring, as part of kitchen splashbacks or even in the garden?
National Asbestos Awareness Week 2020 reminds Australians to be asbestos aware before starting any work around the home - because it lurks in more places than you'd think.
Know the risks.
Don't risk the possible health effects of asbestos exposure.
Asbestos becomes dangerous once the fibres are disturbed, become airborne and then inhaled. This can happen if you're sanding, drilling, cutting or sawing asbestos-containing materials.
Asbestos is a known carcinogen and inhaling asbestos fibres can cause a number of life-threatening diseases including pleural disease, asbestosis, mesothelioma and lung cancer.
Asbestos-related diseases cause approximately 4,000 deaths a year - three times the annual road toll.
Be aware of where asbestos might be in your home.
Asbestos was used in hundreds of building materials, commonly found in bathrooms, laundries,
and kitchens as well as behind tiles and under flooring.
Watch this video about asbestos in the home.
Asbestos in the home (captioned) from Asbestos Safety on Vimeo.
Call for some advice and help
This Asbestos Awareness Week we are calling on Australians to know the health risk, be aware of where asbestos might be found before starting work, and call a professional for advice and help.
More information can be found at www.asbestossafety.gov.au or by phoning 1300 326 148.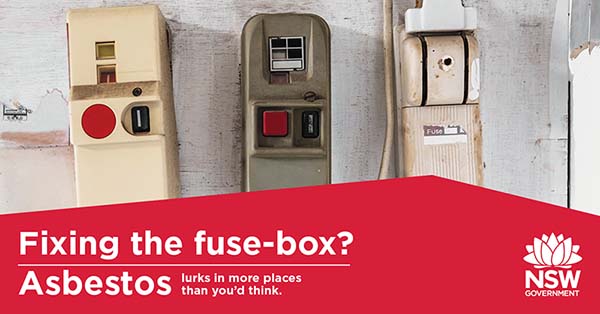 Asbestos could be lurking in your bathroom, kitchen or other unexpected places in your home with at least one in three Australian homes likely to contain this dangerous product. Before its ban in 2003, asbestos was used in more than 3,000 common building materials.
DIY renovators and some tradies are among those most at risk for asbestos exposure. There is no known safe minimum level of exposure.
Find out how to keep you and your family safe around asbestos.
Products around the home that might contain asbestos include:
Roofs, eaves, downpipes and insulation
Interior walls (often with a non-asbestos covering on the outside)
Kitchen splashbacks
Under lino, some carpets, and tiles (and the cement compounds used to affix tiles)
Lagging around pipes, inside fuse boxes or as part of ventilation shafts
Fences, garden sheds and small outdoor construction like chicken coops As part of bonded cement compounds that make up walls –disturbed when you sand for painting
You can't detect asbestos just by looking at it as some companies manufactured identical-looking products after the asbestos ban in 2003. If you're renovating your own home, built prior to 1990, you need to be especially careful. Start by visiting asbestos.nsw.gov.au for more information. You can use the Asbestos Finder to know more about the materials in your home. And if you need, ask a licenced asbestos assessor to inspect your home.
If you're worried about asbestos in your workplace, your first port of call should be your employer or health and safety representative, and then to SafeWork NSW.
Workers in the building and constructions trades, vehicle trades and manufacturing, as well as plumbers and electricians, are especially at risk of potentially encountering asbestos.
What to do if you think you have asbestos in your home
Council's Asbestos Guide - 880kb provides information and general advice regarding different types of asbestos and what you should do if you encounter them.
For more information on how to identify and deal with asbestos in your home, go to the Australian Asbestos Network.
If you have any concerns about asbestos at a property you can ask Council to investigate.