Graffiti Management Grant: Coronation Street Precinct
Council has been awarded a NSW Government grant through the Department of Communities and Justice for a Graffiti Management Grant.
The project will deliver three murals on buildings surrounding Coronation Street Hornsby.
Why?
The objectives of the grant funding is to:
Prevent and minimise incidents of graffiti vandalism
Reduce the social, environmental and economic impact of graffiti vandalism
Enhance community confidence and perception of safety
What?
The murals will reflect the local neighbourhood and add vibrancy and colour to the precinct.
Hugues Sineux – Beattie Lane
In January 2023, Hugues completed a mural on the heritage listed building at 1-3 Jersey Street, representing a patchwork of images of historic events and references of the neighbourhood from the 20th century. The composition is painted in sepia tones in a large trompe l'oeil giving the illusion of a timber noticeboard upon which these images and references are pinned.
Local people and community volunteers from Fusion feature in the foreground, painted in a realist style in colour linking Hornsby's past with present.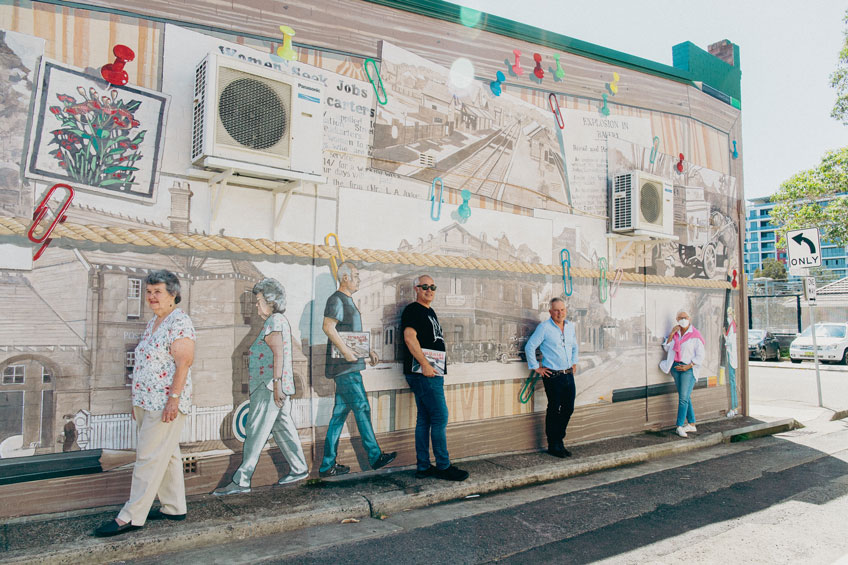 Fintan Magee – Beattie Lane
In December 2022, Fintan completed a mural celebrating locally native, bushland trees of the Hornsby Shire - flowers, leaves and woody capsules (gumnuts). Trees represented include Eucalyptus saligna (Sydney blue gum), Angophora costata (Sydney red gum) and Sydney Turpentine-Ironbark Forest.
The colour palette of the artwork reflects the colours found within the surrounding bushland and of a sympathetic and compatible nature to the adjacent Browsery Cottage and Hornsby Westside Heritage Conservation Area.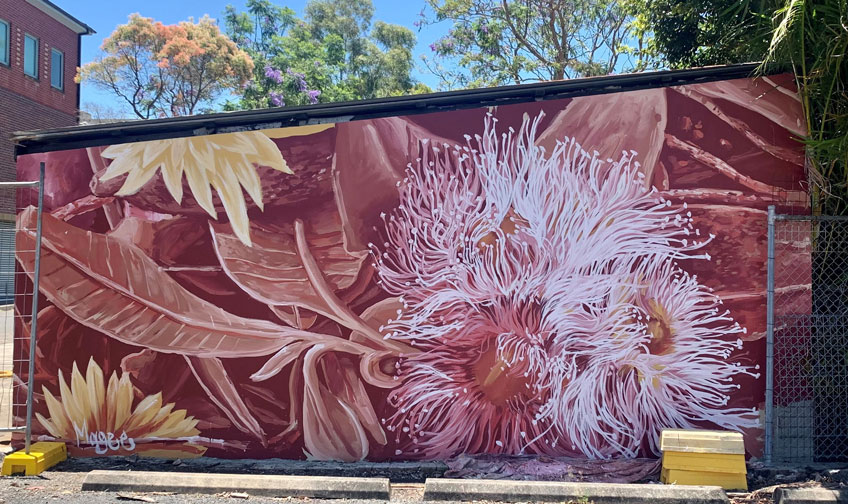 Contact us
Have a question or want to know more about the project? Please contact Julia Morton, Place Manager on (02) 9847 6052 or email jmorton@hornsby.nsw.gov.au
---
Proudly funded by the NSW Government in association with Hornsby Shire Council.