Scores on Doors Program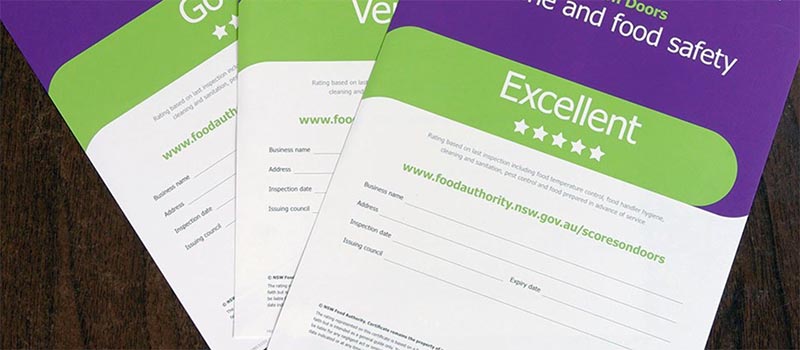 What is Scores on Doors?
Scores on Doors is the NSW food business hygiene rating program that enables consumers to make informed choices about where to eat or shop for food. It drives food safety culture in food businesses and therefore a reduction in foodborne illness.
Scores on Doors gives greater visibility and transparency of compliance by food businesses.
How does it work?
Council's Environmental Health Officers carry out regular unannounced inspections of local food businesses to ensure compliance with food safety legislation. During the inspection, businesses are assessed against a food safety checklist and assigned a star rating reflecting their performance. Ratings range from between three stars, indicating a 'good' level of food safety and hygiene compliance, to five stars, indicating an 'excellent' level of food safety and hygiene compliance.
Businesses that achieve a star rating will be issued with a star rating certificate and are encouraged to display it for customers to view.
Any business with major hygiene and food safety issues will not be issued with a certificate to display. Businesses not participating in the Scores on Doors program also have no certificate.
This is a voluntary program in conjunction with the NSW Food Authority Scores on Doors Program designed to promote food safety and hygiene requirements.
For more information visit the NSW Food Authority's website.
Want to find out more?
Contact Council on 9847 6666 or email hsc@hornsby.nsw.gov.au.
What do the ratings mean?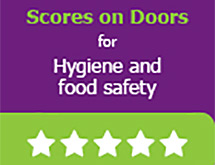 Rating
Definition
5 stars
Excellent
The business has achieved the highest level of compliance with food safety standards.
4 stars
Very good
The business has very good safety practices in place. Some minor areas where standards were not meet will need to be addressed.
3 stars
Good
The business has a good standard of food compliance. A number of areas, although not serious, need to be corrected.