Cooling Towers and Warm Water Systems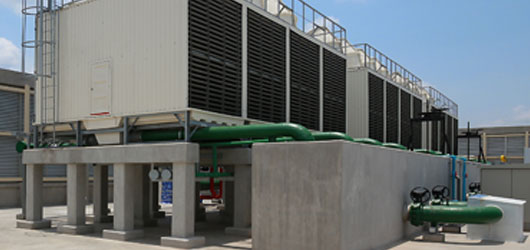 On 10 August 2018 an amendment to the Public Health Act 2012 commenced. The amendments of the legislation provide a performance-based, risk management approach to prevent Legionella bacteria in water cooling systems.
Under this amendment the building owners and occupiers of premises that contain a water cooling system must ensure that:
A competent person (defined in Public Health Regulation 2012 ) must undertake a risk assessment of the cooling water system and document it in a risk management plan (RMP), at least every 5 years (more frequently for higher risk systems).
A competent person prepares a certificate confirming the RMP has been completed. The RMP must be submitted to the Council within 7 days of completing the risk assessment.
Compliance with the risk management plan and Public Health Regulation 2012 must be independently audited and documented in an audit certificate. The certificate must be submitted to the Council every year.
Monthly sampling and testing of the system for Legionella and heterotrophic colony count must be undertaken.
High test results for Legionella (≥1000 cfu/mL) and heterotrophic colony count (≥5,000,000 cfu/mL) must be reported to the Council within 24 hours of receiving the results.
Unique identification numbers for cooling towers must be displayed on all cooling towers. The Council allocates the unique identification numbers.
Please contact Hornsby Shire Council on 9847 6666 to report a high legionella count or high heterotrophic colony count and complete the notification form.
What is legionnaires' disease?
Cooling towers and warm-water systems that are designed to heat and deliver water at a temperature of less than 60 degrees can create an environment that is conducive to the growth of Legionella organisms.
Legionnaires' disease is an infection of the lung caused by the Legionella bacteria. The bacterium causes a form of pneumonia that can be fatal. The disease has the potential to affect everyone, but vulnerable groups are more at risk. Legionella can be controlled by proper water treatment procedures, regular cleaning and maintenance, and applying risk management.
What are the responsibilities of building-occupiers?
The occupier of a premise with one of these systems installed must notify Council within one month of the system's installation, using the following form accompanied by the specified fee.
Legionella Control Notification Form - Water-Cooling/Warm-Water Systems - 176kB
The proper installation, maintenance and auditing of systems is a legal requirement under the Public Health Act 2010.
Only competent contractors should be engaged to install, operate, maintain and audit regulated systems. The Department of Fair Trading licenses contractors who undertake this work.
It is the responsibility of building owners with cooling towers and warm water systems to ensure that they provide Council with accurate and up-to-date information.
If a cooling tower or warm water system is decommissioned the occupier/owner is required to fill in a water cooling system decommission notification form.
Failure to comply with these requirements may result in heavy fines or imprisonment.
What are Council's responsibilities?
Local councils are required to maintain an accurate register of cooling towers and warm-water systems installed on premises in their area.
Environmental Health Officers may conduct an audit of warm water systems and cooling towers to ensure the maintenance of systems comply with the Public Health Act 2010 and the Public Health Regulation 2012.
If an outbreak occurs, the Legionnaires' Disease Emergency Management Plan prepared by the NSW Health Department will be put into action.
Information on legionella control for building owners, occupiers and contractors is available at the NSW Health website.