Bulky Waste Collection
Bulky Waste Collection Calendar Dates
Bulky Waste Collection Service Calendar dates are currently available until 30 June 2021.
Council's New Waste Collection Services Contract commences on 1 July 2021.
New Bulky Waste Collection Service Calendar dates from 1 July 2021 to 31 December 2021 will be available soon.
Your scheduled bulky waste collection is for large unwanted household items. Bulky Waste items go straight to landfill so should be a last resort disposal option. Small household items should be placed straight into your red lid garbage bin.
Find the date of your next collection
Mattress Recycling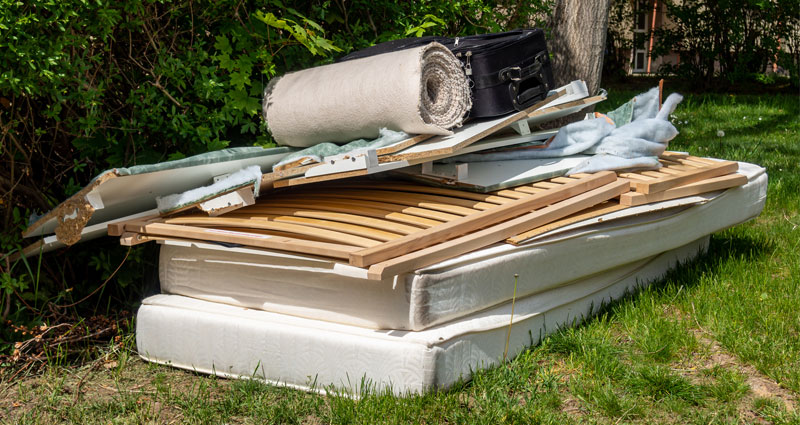 Hornsby Shire Council accepts mattresses through your kerbside bulky waste collection. These unwanted mattresses are taken to Mattress Recycle Australia (MRA) in Cootamundra, where the components such as steel, wood and fabric are separated for recycling.
The steel is recycled into new products, the wood is made into mulch, and the fabric is combined with crushed recycled glass to make high quality tiles. These tiles can be used for ceiling insulation, acoustic panelling or other decorative elements for new housing.
MRA is a not-for-profit organisation, giving meaningful work to those who need a pathway to employment, such as learning skills in manufacturing and truck driving.
More information on mattress recycling innovations:
Make Australia 'make' again, NSW Circular Economy Innovation Network, 25 May 2020
Visit: https://www.nswcircular.org/make-australia-make-again/
UNSW SMaRT& NSW Circular and Mirvac & Co's collaboration on transforming the recycled materials into sustainable homewares, UNSW Sydney, School of Materials Science and Engineering, 14 December 2019
Visit: http://www.materials.unsw.edu.au/news/unsw-smart-nsw-circular-and-mirvac-cos-collaboration-transforming-recycled-materials
Important information about bulky waste collection
Place items on the nature strip at the front of your property one day only before your scheduled collection.
The maximum volume per collection is three cubic metres. If you exceed this amount you will be asked to remove it.
Place metal items in a separate pile for recycling.
Make sure items can be easily lifted by two people.
Small items can go in your red lid garbage bin.
E-waste such as computers and televisions should NOT be put out for collection. These items contain precious natural resources that can be recycled. Please take all e-waste to the Community Recycling Centre.
Cardboard can be put into your yellow lid recycling bin or taken to a waste management centre or Community Recycling Centre.
Residents of medium density units must place their materials in the designated collection area.
Council has the right to refuse collection of any items.

Remember: Placing your bulky waste out front more than one day before your collection date is considered illegal dumping.
Accepted items
The following items CAN be put out for collection:
Broken and discarded furniture
Toys and bicycles
Appliances and fittings, including white goods (please remove the doors from refrigerators, freezers, stoves, washing machines, dryers and cupboards)
Larger household items
Rolled carpet and underlay (up to 12 square metres)
Roof guttering (up to 2 metres long)
Small metal items
Unacceptable items
The following items WILL NOT be collected:

Garden waste including branches, shrubs, tree stumps and trunks
General garbage and food waste
Industrial, business, farm or trade waste
Building, demolition or renovation materials
Motor vehicle bodies, engines, tyres, batteries and parts
Gas bottles and fire extinguishers
Concrete, bricks, rocks and dirt
Any liquids (including paints, chemicals, oils etc.)
Sheets of glass (with or without frames)
Anything larger than 2 metres in length
Pallets
Find out more on how to dispose of items that will not be collected