International Family History Sites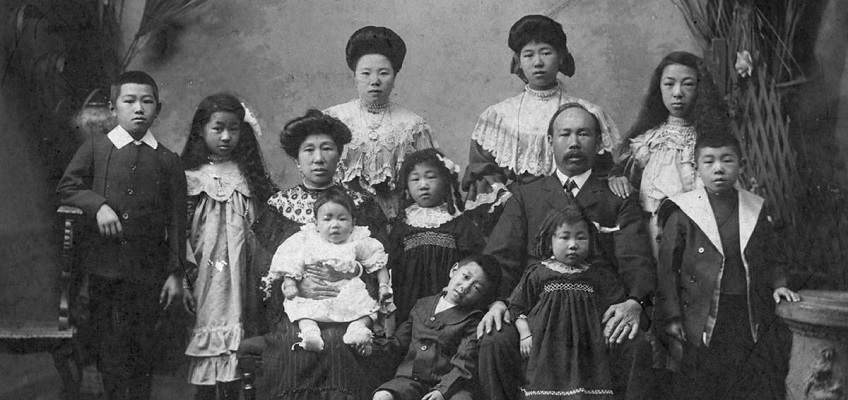 From Asia to Australia circa 1890
We've gathered together a range of websites that will help you research your International genealogy.
China
Chinese Family History
Information to help trace your Chinese ancestors.
Chinese Immigrants and Chinese-Australians in New South Wales
A guide to records relating to Chinese immigration and settlement and Chinese–Australians in New South Wales.
England and Wales
Amateur Family History
A simple podcast by amateur Family Historians for amateur Family Historians.
Using Strategies to Locate a 19th Century Family in England
A guide to help you locate your family back in England.
British Army in the First World War
Information on how to research the service life of a British WWI soldier.
British Association for Cemeteries in South Asia
This website contains records of old cemeteries and the inscriptions on the graves found in a wide area of South and East Asia where the East India Company operated.
British Library Online Gallery
Old maps and images from the National Library of the United Kingdom.
Curious Fox
The village by village contact site for anybody researching family history in the UK and Ireland. Use the search box to find your village or town.
Families in British India Society
The FIBIS website contains useful information including cemeteries and many searchable databases.
FreeBMD
The Civil Registration index of births, marriages and deaths for England and Wales.
The General Register Office
The General Register Office is part of Her Majesty's Passport Office and oversees civil registration in England and Wales. They maintain the national archive of all births, marriages and deaths dating back to 1837.
GenUKI
Large collection of genealogical information for England, Wales, Scotland, Ireland, the Channel Islands and the Isle of Man.
The Historic Hospital Admission Registers Project
The Historic Hospital Admission Registers Project (HHARP) is the result of a partnership between Kingston University's Centre for the Historical Record (CHR) and various hospital archives in London and Glasgow. It began in 2001 and has records from the Hospital for Sick Children, London (subsequently, the Evelina Hospital, London), the Alexandra Hospital for Children with Hip Disease, London and the Royal Hospital for Sick Children, Glasgow.
London, Belfast and Edinburgh Gazettes
Gateway to the London, Belfast and Edinburgh Gazettes, the official newspapers of the records of the UK. Pay per view.
Lost Cousins: Putting Relatives In Touch
LostCousins finds living relatives, people who share your ancestors, and can help you discover more about your family tree.
National Archives
The UK Government's official archive, containing more than 1,000 years of history.
Old British News
A researcher of the British press between 1750 and 1950, identify British newspaper stories and supply historic articles. This service is voluntary and free to use. He will find any articles and send you the news reports by email as attachments.
Proceedings of the Old Bailey, London 1674-1913
The largest body of texts ever published detailing the lives of non-elite people, containing accounts of more than 100,000 criminal trials held at London's Central Criminal Court.
Welsh Newspapers Online
Site run by The National Library of Wales Aberystwyth. Discover 15 million articles and 1.1 million pages in both Welsh And English.
India
Families in British India Society
The FIBIS website contains useful information including cemeteries and many searchable databases.
National Archives – India
The National Archives of India is the biggest archival repository in South Asia. It contains many useful online records.
Ireland
Bill Macafee's Family and Local History
A directory for researching ancestors who lived within the area of Ulster covered by Co. Londonderry and North Antrim.
Census of Ireland 1901 & 1911
Household returns and ancillary records for the censuses of Ireland of 1911.
Cork Records
Historical records of the County and City of Cork, including information of local churches and lists of Freemen of the city.
Fianna
Includes addresses of civil and Roman Catholic parishes and local research facilities. It also has transcripts of muster rolls, freeholders lists and census returns.
General Register Office of Northern Ireland
A pay per view site that gives you access to birth, marriage, death and WWII registration information.
Index to the County Antrim 1803 Agricultural Census
An inventory of livestock, provisions and equipment that was undertaken to prepare for invasion by the French.
Ireland Genealogy Links
Includes links to various Irish sites including Census Returns and Transportation Records.
The IrelandGenWeb Project
Features county websites with genealogical databases, research guides and useful links. Includes an 1864 birth index.
Irish Archives Resource
Information about archival collections open for public research in Ireland.
Irish Genealogy
Provides valuable information on the many ways of tracing your Irish family history, as well as access to more than 3 million pre-1900 church records.
Leitrim-Roscommon - Elphin Census database 1749
Data collected for the Elphin Census in 1749.
National Archives Ireland
Site of the National Archives of Southern Ireland.
The Public Record Office of Northern Ireland
A wide range of resources, including half a million signatures of those who signed the Ulster Covenant and the parallel Declaration.
Roots Ireland
A database of Irish family history run by The Irish Family History Foundation, an all-Ireland not-for-profit organisation.
Tracing Your Irish Roots at Moving Here
Hints and helpful tips on tracing your Irish ancestors.
Italy
Italian Genealogy
A community forum for people interested in Italian family history.
Italian Genealogical Group
Learn how to research your Italian Family History.
Italy Heritage
A guide and links for tracing your Italian Family History.
New Zealand
Archives New Zealand
A record of New Zealand government.
Auckland City Library Archives
City archives which relates to functions and activities of the council.
Christchurch City Library
European and New Zealand family history resources.
New Zealand Births, Deaths and Marriages
The official department holding births, deaths and marriages registers.
New Zealand Rootsweb Site
Information extracted from a private collection of New Zealand newspapers, books and publications from the 1840s to the 1980s.
New Zealand Cemetery Records
Search for people in cemeteries in the major cities such as Auckland, Wellington and Christchurch as well as other regional centres.
Papers Past
Papers Past provides access to millions of pages of digitised New Zealand newspapers. It contains digitised NZ and Pacific newspapers from the 19th and 20th centuries.
Russia
All Russia Family Tree
'All Russia Family Tree' is a research project of surnames connected with Russia and family trees. Some parts are available in English.
National Library of Russia
Site of the National Library of Russia.
Russian Archives Online
Russian Archives Online is an online collection of Russian and Soviet-related archives and other sources of film footage, photographs, and fine art.
Russian Genealogy
Information and links on how to trace your Russian heritage.
Russian National Archives
Site of the National Archives of Russia.
Russia Resources
Resources to help trace your Russian genealogy.
Russian State Archives of the Navy
Site of the Russian Naval archives.
Scotland
National Records of Scotland
Records created by Scottish Government from the 12th Century onwards, along with private records created by businesses, landed estates, families, courts, churches and other corporate bodies.
Scotlands Family
Explore your Scottish family tree with online data and history records.
Scotlands People
One of the largest online sources of original Scottish genealogical information, with almost 50 million records. Pay per view.
Talking Scot
Talking Scot has been set up as a meeting place for people with an interest in Scottish genealogy, history and culture.
South Korea
Family History Guide to South Korea
A guide and links for tracing your South Korean Family History.
Korean Genealogy
A community helping each other discover their Korean ancestry.
United States of America
Amy Johnson Crow
Access to podcasts, workshops and genealogical resources.
Ellis Island Foundation
An online register of more than 25 million people who entered the USA via Ellis Island in New York.
National Archives of the USA
Access to a number of records including census, land, naturalisation, immigration and military service.