Australian Family History Sites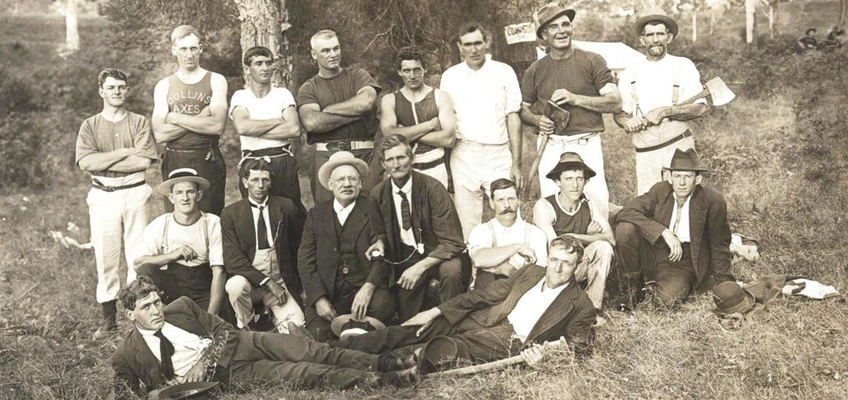 We've gathered together a range of websites that will help you trace your family back to its first arrival in the land down under.
Australian
Australian Cemeteries
A searchable site of various Australian cemeteries, the majority of which are now closed.
Australian Federation of Family History Organisations
The umbrella organisation for family history societies in Australia.
Australian Institute of Aboriginal and Torres Strait Islander Studies
The Family History Unit is part of the recommendations from the Bringing Them Home Report.
Australian Shipping Arrivals and Departures, 1788 to 1968
Passenger details for various ports around Australia, as well as occasional crew list details for some of the ships.
Australian War Memorial
Includes an extensive archive and online databases available for family history research.
Convict Transportation Registers Database
A database compiled from the British Home Office (HO) records which are available on microfilm. Find details for more than 123,000 of the estimated 160,000 convicts transported to Australia.

Convicts to Australia
Intended to guide, inform and entertain those just starting the hunt as well as the more experienced researcher.
Coraweb
An excellent family history gateway site for tracing immigrants to Australia.
Findmypast - Australia
Only available for use in the library, this has 50 million records for Australia, New Zealand, Pacific Islands and Papua New Guinea.
Genealogy Search Australia
A free search engine and directory that provides links to a number of useful Australian and international family history sites.
Mapping our ANZACS
Offers three ways to commemorate the original Anzacs: locate a service person, add to the scrapbook or build a tribute.
National Archives of Australia
An abundance of material of interest to family historians. There are some colonial records, but most of the were created during the 20th Century.
National Library of Australia
Online sites hosted by the National Library, as well as links to various state-based websites.
Nominal Roll of Vietnam Veterans
Government website listing approximately 61,000 men and women who served in Vietnam between 1962 and 1975.
Rookwood Cemetery - Anglican and general burials
Gives free access to Anglican and General burials after you have registered as a member.

Ryerson index
An index of death notices appearing in current Australian newspapers. It also includes some funeral notices, probate notices and obituaries.
Society of Australian Genealogy
Official website of the society, including research databases.
Sydney Benevolent Asylum
Listing more than 78,000 inmates of the asylum between 1857 and 1900.
Trove
Millions of Australian and other online resources including books, images, historic newspapers, maps, music, archives and more.
World War 2 Nominal Roll
Information from the service records of some one million individuals.
World War II Refugees to Australia
Passenger lists of those who migrated to Australia before, during and after World War II.
Australian Capital Territory
No resources currently available
New South Wales
Colonial Events Index 1788-1844
Around 110,000 references to convicts, settlers, townsfolk, bushrangers, innkeepers, soldiers, and landowners.
Free Settler or Felon
Search Free Settler or Felon to find your Hunter Valley Ancestor.
NSW Registry of Births, Deaths and Marriages
Includes a Family History page that will help you trace your ancestors.
Turtle Consolidated Services
A NSW transcription service that includes a document retrieval service for information held at the NSW State Records Office (Kingswood branch).
Joy Murrin Family History Services
Provides an economical alternative to New South Wales BDM Certificates as an accredited transcription agent since 1995.
Macquarie Park Cemetery
Searchable database from the cemetery located in North Ryde.
NSW Department of Lands
Access to New South Wales land titling records.
Irish Convicts to NSW 1791-1831
Details of Irish convicts who were transported to New South Wales between 1791 and 1831.
State Records Office of New South Wales
For anyone wanting to explore the official archives of New South Wales. Includes catalogues, guides, indexes and other tools for searching the archives.
State Records Office of New South Wales - Sentenced Beyond the Seas: Australia's early convict records
A project to digitise and index Australia's earliest convict records. Includes colour images of early convict indents for the first time.
State Library of New South Wales
The Family History Service at the State Library of NSW is designed to help people discover information about their ancestors.
State Library of New South Wales - World War I Soldiers' Diaries
A selection of soldiers' diaries and photographs available to view online.

Northern Territory
Find My Past Australia
Find My Past Australia has a limited number of Northern Territory databases available, examples include Northern Territory Birth Index 1870-1918 and Northern Territory Burials. Available for use in the library only.
Queensland
Judy Webster's Genealogy Advice Pages - Queensland
Excellent site for Queensland records with free indexes to a variety of information sourced from the Queensland State Archives.
Queensland Births, Deaths and Marriages
Free online historical index of all births up to 1914, marriages up to 1939 and deaths up to 1984.
Queensland Electoral Rolls
A pay per view site that offers access to the Queensland Voters Registers between 1895 and 1949.
Queensland State Archives
Custodian of the state's largest and most significant collection of government records.
State Library of Queensland - 19th Century Queensland almanacs
Up to 10,000 pages of content from Queensland's 19th century almanacs have been digitised.

South Australia
Genealogy South Australia
Resources for those researching their South Australian family history.
State Records of South Australia
The principle repository for official records no longer required by the SA Government for current administrative purposes.
South Australian Births, Marriages and Deaths
Births, Deaths and Marriages do not provide an online search facility but they do provide certificates which may help you research your family history. Anyone has access to:
birth certificates more than 100 years old
death certificates more than 30 years old
marriage certificates more than 75 years old
South Australian Convicts
Access details of people convicted in South Australian courts to transportation.

Tasmania
Archives Office of Tasmania
The state's archives, including records of non-government organisations and individuals.
Australia, Tasmania, Civil Registration, 1803-1933
Civil registration of baptisms, births, marriages, deaths, and burials in Tasmania, Australia. Original records are kept in the Archives Office of Tasmania in Hobart.
Colonial Tasmanian Family Links Database
Searchable database of birth, death and marriage records that links individuals with other members of their family living in Tasmania in the 19th Century.
Index to Tasmanian Wills & Letters of Administration from 1824 - 1989
Documents including wills and letters of administration that you can make copies of.
TasGenes
An innovative Tasmanian-based small business which provides a range of digital services to genealogists.
Victoria
Index to Assisted British Immigration 1839-1871
Lists the names of assisted passengers who boarded ships to Victoria from Britain between 1839 and 1871.
Unassisted Immigration to Victoria 1852-1923
Names of unassisted passengers who boarded ships to Victoria from British and Foreign ports between 1852 and 1923.
Index to Wills, Probate and Administration Records 1841-1925
You can search this list for names of people whose estates underwent the probate process in the Supreme Court of Victoria.
Public Records Office for Victoria
The archives of the State Government of Victoria. They hold records from the beginnings of the colonial administration in the mid-1830s to today.
Victorian Birth, Marriages and Deaths
The Registry of Births, Deaths and Marriages Victoria (BDM), we've been keeping records of significant life moments since the mid 1800s. Records are restricted for between 30 and 100 years, depending on the life event. You can search our historical indexes of births, baptisms, marriages, burials and deaths dating back to as early as 1836.
Victorian Wills and Probate
Online wills and probate records 1841 to 1825. You can also view the digitised record.
Victoria Government Gazette
More than 160 years of official information published in and about Victoria.

Western Australia
Metropolitan Cemeteries Board, Western Australia
Records for all interments, cremations and memorials at WA cemeteries dating back from 1899.
Western Australian Online Birth, Death, Marriage Indexes
Free online historic index of births, deaths and marriages from 1841. Births go up to 1932, deaths to 1966 and marriages to 1936.