Weeds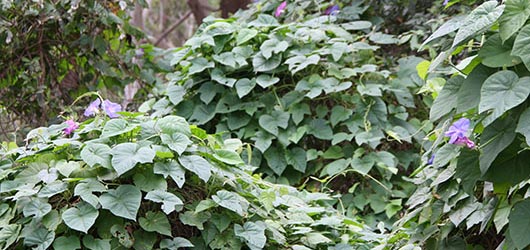 What is a weed?
Within Hornsby Shire there are many plants labelled "weeds". Weeds are often defined as plants growing out of place, and yet who is to say which plant is appropriate for what place?
Common weeds and how to treat them
Weeds of the Sydney North Regions Brochure - 1.2MB
Weeds and the law
Plants that significantly impact upon the natural environment, the community or the economy should be controlled. Up until 1 July 2017 the main piece of legislation dealing with these plants was the NSW Noxious Weeds Act 1994. Under this Act certain plants were termed "noxious weeds" and were placed into "classes" that dictated their control measures (for example, in Hornsby Shire broad-leaf privet was a Class 4 noxious weed).
The NSW Noxious Weeds Act 1994 has now been repealed and replaced with the NSW Biosecurity Act 2015 and its accompanying Biosecurity Regulations.
Biosecurity risk
Under the new Act, plants are no longer termed "noxious weeds" nor have "classes". Instead, all plants are assessed for their biosecurity risk. This is the risk that the introduction, presence, spread or increase of a plant will have, or may potentially have, an adverse effect on the economy, the environment or the community.
Such potential adverse effects include the plant:
out-competing other organisms for resources, including food, water, nutrients, habitat and sunlight
causing harm to other organisms through its toxicity
reducing the productivity of agricultural systems or the value of agricultural products
damaging infrastructure
reducing the amenity or aesthetic value of premises
harming or reducing biodiversity
For certain plants known to have a high biosecurity risk, the NSW Biosecurtiy Act 2015 prescribes actions that are deemed reasonably practical to prevent, eliminate or contain the risk. For example,
some highly invasive plants not already present in NSW are listed as prohibited matter and prevention of the biosecurity risk is considered a reasonably practical objective
some plants with limited distributions have prescribed mandatory measures applied to them that aim to eradicate the plant and thus eliminate their biosecurity risk
some widely distributed invasive plants have biosecurity zones that seek to contain their biosecurity risk.
Regardless of whether plants have specific actions prescribed to them, the NSW Biosecurity Act 2015 recognises that everyone who knows, or ought to reasonably know that a plant poses a biosecurity risk has a general biosecurity duty to prevent, eliminate and minimise that biosecurity risk so far as is reasonably practicable.