Waste and recycling services for businesses
NSW businesses send more than 1.8 million tonnes of business waste to landfill each year. Would you like to reduce your waste?
'Bin Trim' is an innovative waste and recycling initiative run by the NSW Environment Protection Authority to assist businesses to reduce waste and save money. Businesses with fewer than 400 employees could be eligible for a free waste assessment from an EPA 'Bin Trim' assessor. This includes receiving a detailed waste report, an easy to implement action plan and ongoing support. You could also save money with access to generous rebates of between $1000 and $50,000 to help with the cost of purchasing recycling equipment. For more information go to www.epa.nsw.gov.au/Bintrim
Council's commercial waste services provide:
locally-based, customer-focused service
daily, weekly or fortnightly service
waste and recycling education workshops for your staff
recycling bins available for paper, cardboard, glass, plastic, aluminium and steel cans
bins supplied by Council at no additional cost
no complicated long term contracts or hidden charges
on-call Bulky Waste collections
General waste and recycling bin options
Wheelie bins - 140 litres and 240 litres
Bulk bins - 660 litres / 1100 litres
Wheelie bin – 240 litres
Bulk bins - 660 litres /1100 litres
Wheelie bin – 240 litres
Bulk bins – 660 litres/ 1100 litres
Wheelie bin – 240 litres (fortnightly only)
Liquid waste or hazardous material such as medical waste is not accepted. Council can provide advice on safe and legal disposal options.
Cost
Costs vary depending on the requirements of individual businesses. Fees are charged directly to the business owner on a monthly basis.
Further information
For more information please contact Council's Waste Management Team on 13 70 30 or email waste@hornsby.nsw.gov.au
Waste and Recycling Services Guide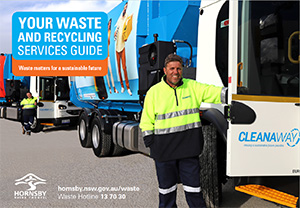 Download a copy of the Waste and Recycling services Council provides.
Waste and Recycling Services Guide – English (PDF 9.7MB)
Waste and Recycling Services Guide – Arabic (PDF 11.3MB)
Waste and Recycling Services Guide – Farsi (PDF 11.3MB)
Waste and Recycling Services Guide – Korean (PDF 11.2MB)
Waste and Recycling Services Guide – Simplified Chinese (PDF 11.5MB)
Waste Matters