Recycling
Keeping Recycling Strong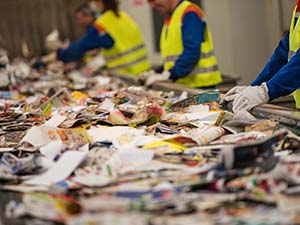 Some councils in Australia have been affected by the global recycling crisis, due to China refusing to accept recyclable material from other countries. However, Hornsby Shire was not affected by this, as our yellow bin recyclables are taken to the Visy Materials Recovery Facility (MRF) at Smithfield in Sydney for processing.
Most of our recyclable materials including paper, cardboard, glass, PET and HDPE are used in remanufacturing right here in Sydney. All of our yellow lid recycling bin material continues to be recycled, with no recyclables going to landfill.
Hornsby Shire residents are keen recyclers and actively support kerbside recycling. Keep up the good work Hornsby!