Recycling
Missed Green Waste Collections – 28 September 2022
Regretfully, there have been delays this week to green waste collections in some areas of the Shire. Our collection contractor Cleanaway is experiencing driver shortages, meaning not all trucks have been able to hit the road.
These delays are affecting suburbs throughout the Shire.
If your green bin has not been emptied on your collection day, please leave it at the kerbside and Cleanaway will service it as soon as possible, including weekend collections where necessary.
Thank you for your patience and understanding.
Waste and Recycling Services Guide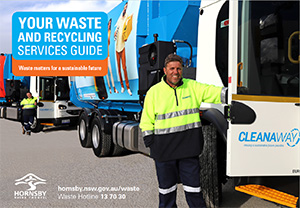 Download a copy of the Waste and Recycling services Council provides.
Waste and Recycling Services Guide – English (PDF 9.7MB)
Waste and Recycling Services Guide – Arabic (PDF 11.3MB)
Waste and Recycling Services Guide – Farsi (PDF 11.3MB)
Waste and Recycling Services Guide – Korean (PDF 11.2MB)
Waste and Recycling Services Guide – Simplified Chinese (PDF 11.5MB)
Waste Matters