Recycling works if you sort it right
Everybody is making a great effort to recycle their waste but sometimes it's not clear what can and cannot be recycled. Please see the guidelines below to help you sort your recycling correctly.
Please do not put plastic bags and soft plastic packaging or wrap in the yellow lid recycling bin. These soft plastics get caught in machinery at the sorting facility
Plastic bags can be recycled at the Community Recycling Centre at 29 Sefton Road, Thornleigh. Or taken back to your local supermarket and placed in dedicated plastic bag recycling bins.
The only type of plastics accepted in the yellow lid recycling bin are disposable plastic containers from the kitchen, bathroom or laundry.
The only type of glass accepted in the yellow lid recycling bin is glass bottles and jars (lids removed). No other type of glass (reading glasses, Pyrex, drinking glasses, windows, etc. is accepted as these other types of glass are created at different temperatures and may have additives and will ultimately lead to contamination.
The colour of the glass bottles and jars (clear, brown, etc.) doesn't matter.
Aerosol (spray) cans can be recycled via the yellow lid recycling bin. They are a great source of steel. Please ensure they are empty.
Recycling goes into your yellow lid recycling bin loose. Never in a plastic bag please. When items are placed loosely in the bin they are able to be easily sorted at the Materials Recycling Facility (MRF).
If in doubt, leave it out. Putting the wrong thing in the wrong bin can ruin your recycling efforts.
Did you know?
You can attend a Recycling Tour to learn more? Email waste@hornsby.nsw.gov.au or phone the Waste Hotline on 9847 4856 to find out when the next tour is.
Visit the Planet Ark website to learn more about National Recycling Week.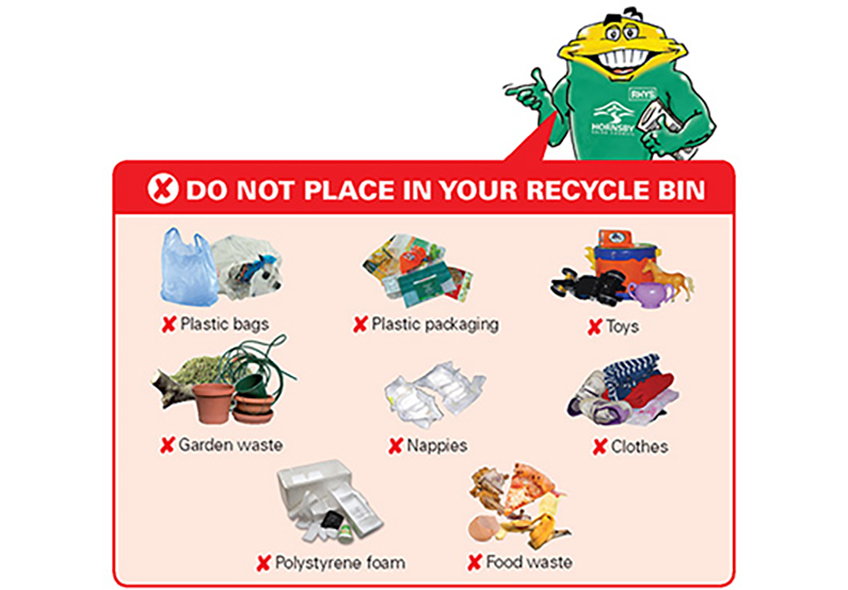 For more about how to dispose of your waste visit our general waste page or read our FAQs.
---
Your recycling counts
In 2016, 91,403 tonnes of waste was recycled in Hornsby Shire. Hornsby Shire Council would like to thank its residents for the great work that you have done by using your Green Lid Garden Waste and Yellow Lid Recycling bins. Your efforts have benefited the environment in one of the following ways.