Picture Pennant Hills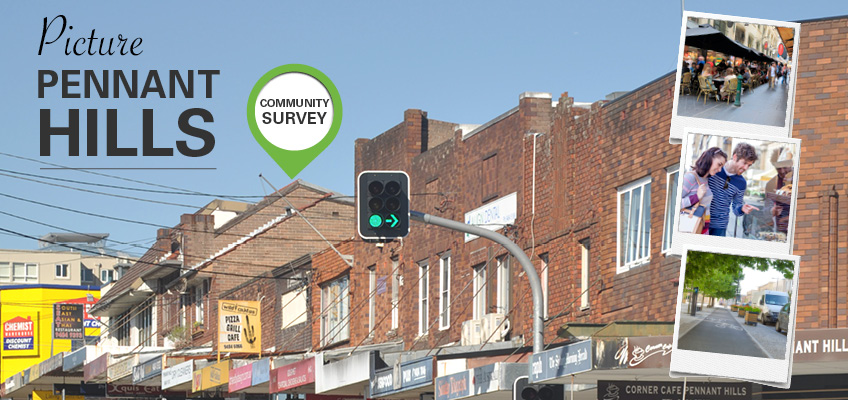 Council is reviewing its planning controls to inform a future master plan for the Pennant Hills Town Centre.
Background
Council invited the Pennant Hills and Thornleigh community to flag their ideas on planning priorities for the Pennant Hills Town Centre, to help picture a master plan vision over the short and long term.
Recent infrastructure projects in the area, including the completion of the Epping to Thornleigh Rail Track, and the commencement of the North Connex Tunnel, provides an opportunistic time to review the role and character of this important Centre.
Rate payers within the suburbs of Pennant Hills and Thornleigh were invited by letter to complete the Picture Pennant Hills community survey. A random pedestrian intercept survey to capture visitors' views was also undertaken in the Town Centre.
At its General Meeting on 10 May 2017, Council considered Group Manager's Report PL14/17 presenting the analysis report with the community survey findings and recommended next steps in the master plan process. The analysis report is available for viewing at Picture Pennant Hills Survey_Summary of Responses.
The analysis report identified divergent community views between a desire for improvements to the Town Centre and low support for increased residential density. Respondents recognised that revitalisation of the Centre is needed, however qualified that renewal should only occur where the village character and tree canopy of the area are maintained.
Council resolved to undertake an economic feasibility study as the next step in the master plan process. This study will help determine the continued demand for commercial floor space and economic feasibility thresholds of mixed commercial and residential floor space, to inform the scale of development required to deliver improvements to the Centre.
For further information on this important project, you can contact the Strategic Planning Branch on 9847 6726 during business hours.