Keeping Recycling Strong
Councils across Australia have been affected by the global recycling crisis, due to China refusing to accept recyclable material from other countries. Hornsby's yellow bin recyclables are taken to the Visy Materials Recovery Facility (MRF) at Smithfield in Sydney for sorting. Residents are encouraged to come along and observe this process for yourself at one of our regular tours of this facility book here.
The materials recovery facility sorts recyclables into various streams including paper, cardboard, glass, PET and HDPE plastics, mixed plastics, aluminium cans and steel cans. Some materials are sent to secondary processing and manufacturing plants in Sydney and the remainder are on-sold to national and international commodity markets.
For example, Visy can process PET, HDPE and paper/cardboard in their Sydney processing and manufacturing plants that produce packaging and other products. Glass is processed in a separate recycling facility at Penrith, and there is strong demand for steel and aluminium. However, mixed plastics are generally exported to overseas markets as there are no Australian manufacturers for these materials. With the China Ban and many other countries following a similar approach, there is an urgent need to address building markets to use mixed plastics and other recyclables in onshore manufacturing and reuse opportunities.
Currently, the Australian recycling and manufacturing sectors do not have the infrastructure capacity to process all the different recyclable materials that Australians produce onshore. There is also a need to develop Australian markets for products with recycled content, so we can avoid sending our recyclables offshore. The way forward is for Australia to build a circular economy where recyclables are remanufactured into useful products that are then consumed and recycled again and again.
Why is the media talking about a recycling crisis?
Early 2018 China introduced the National Sword Policy. The policy tightened China's acceptance on recyclable imports from overseas markets, including Australia. China now requires a cleaner and more processed version of recyclables. Mixed plastic recycling then moved to other Asian countries such as Malaysia which are now tightening their restrictions too. This has impact on how much recycling Australia can send overseas.
What is Council doing about it?
Councils across the state are working with industry, state and federal government to develop stronger markets for recycling. New markets require cleaner, less contaminated material so it is important that we all continue to recycle and reduce contamination to provide the best recycling products.
Australia needs to invest in recycling infrastructure and stimulate market demand for recycled materials. State and Federal Government are working towards a circular economy where recyclables are processed and used domestically. 'A circular economy is all about valuing our resources, by getting as much use out of products and materials as possible and reducing the amount of waste we generate.' NSW EPA 2019
The 2025 National Packaging Waste Targets were recently announced by Government:
100% of all Australia's packaging will be reusable, recyclable or compostable by 2025 or earlier
70% of Australia's plastic packaging will be recycled or composted by 2025
30% average recycled content will be included across all packaging by 2025
Problematic and unnecessary single-use plastic packaging will be phased out through design, innovation or introduction of alternatives.
What can I do to make my recycling efforts worth it?
1. Avoid plastic
Our main tip is to avoid plastic to reduce the need for recycling.
Avoid single use plastics, e.g. bring your own container for take away food and drinks
Reuse where possible, e.g. reusable coffee cups and shopping bags
Reduce packaging, e.g. buy in bulk food stores or choose the not packaged option
Contact the companies supplying plastic products and demand change
2. Keep recycling
Check our A-Z waste and recycling guide to ensure you are doing your part for 'clean' recycling.
Recycle your drink bottles and cans with Return and Earn, the NSW container deposit scheme.
Keep in mind "if in doubt, leave it out".
3. Close the Loop
Buy items made from recycled material. Build the demand for recycled materials to increase the production and availability.
4. Join the campaign 'Save our Recycling'
We urgently need a domestic recycling market. Save our Recycling is lobbying state government to make this a priority. Join this campaign to support their call for a strong domestic recycling sector.
Hornsby Shire residents are keen recyclers and actively support kerbside recycling. Keep up the good work Hornsby!
Waste Matters
Waste and Recycling Videos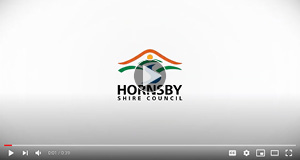 Get some tips and advice on what you can do to recycle right.