Local Waste Champions
Move It On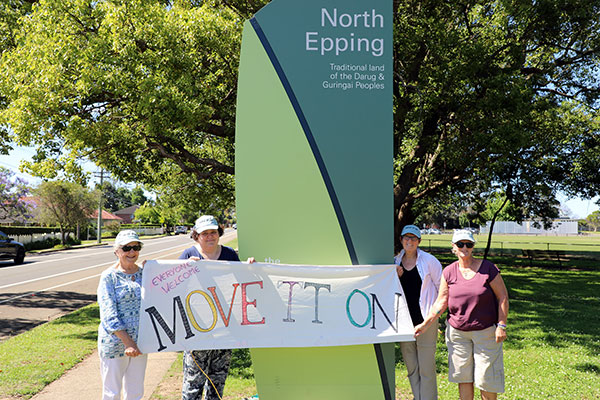 In January 2019 four North Epping locals discovered they all felt the same way about waste and decided to do something about it. Fed up with the number of items going to landfill, they formed a Facebook group called Move It On.
Over the last two years, Kathy Bradford, Joanne Colquhoun, Narelle Maxwell and Anne Youll, have helped a mountain of unwanted household goods find a new home.
Move It On has 171 Facebook members and holds events to 'move on' items, as well as promote Council's waste and recycling services. Their message to our community is 'One person can make a difference, and be the change you want to see in the world'. We are so proud to have these waste champions in our Shire!
To find out more or get involved, visit the Move It On Facebook page.
---
McQuoin Park Retirement Village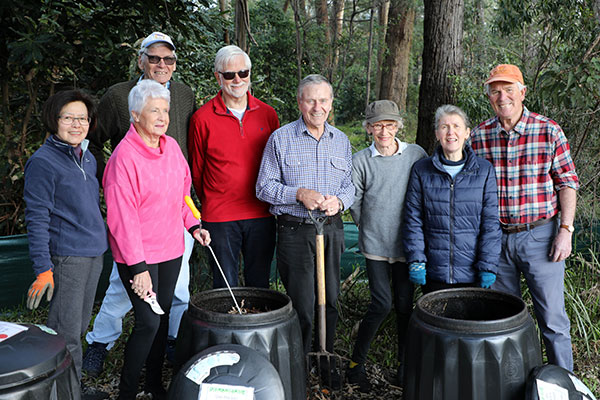 McQuoin Park Retirement Village, run by Catholic Healthcare, have a thriving fruit and vegetable garden where they compost their food waste rather than sending it to landfill. The community garden club meets every week and leader Laurie McGowan is passionate about sharing his knowledge with the group. Laurie has worked with Council waste officers to create a sustainable garden with three compost bins which produce nutrient rich compost for their garden. Well done to Laurie McGowan and McQuoin Park Retirement Village.
Our local Hornsby Shire community is making positive changes increase recycling and reduce waste going to landfill. Above are some of our enthusiastic local waste champions!
---
Jay Powell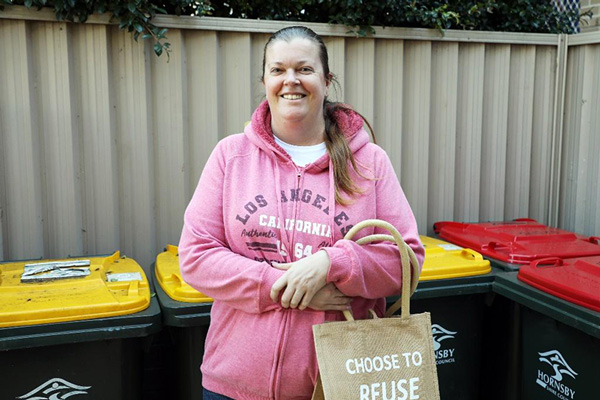 Jay Powell was acknowledged as a 'Local Waste Champion' for her ongoing commitment to recycling, and for keeping her apartment complex free of overflowing bins and incorrect bulky waste presentations. Her dedication to educating her neighbours about waste and recycling is inspiring, and all done with a smile. Thank you Jay!
---
Agnes Yiu
Community volunteer, Agnes Yiu, has lived in Hornsby for 24 years since arriving from Vancouver, Canada, and in that time has assisted many Chinese Australians by translating complex waste and recycling information into Cantonese and Mandarin. Recently Agnes presented our 'Recycling Talk in Cantonese' event on Zoom, in her fun and informative manner.
She is an enthusiastic recycling champion and we are grateful for her knowledge and assistance in educating our Community. Agnes believes that many challenges can be improved by creating new habits, such as bringing your own shopping bags to reduce single-use plastics.
---
Bec Healy - Boxhead Plastics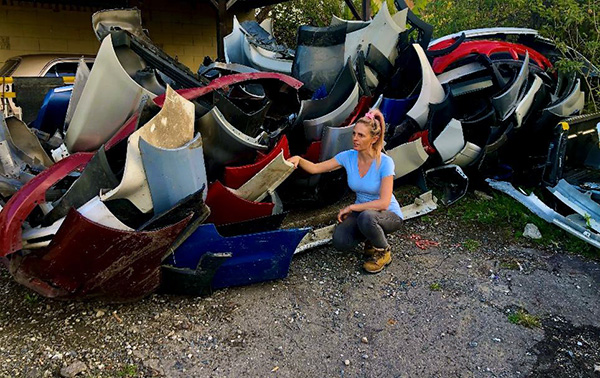 Bec Healy is the founder of Boxhead Plastics, a charity created to close the loop on plastic waste from the local auto industry. Unwanted plastic car bumper bars are now used to produce recycled golf tees, made here in Hornsby!
Boxhead Plastics brings together car bumper bar collectors, plastic recyclers and processors, and local manufacturing to produce a recycled plastic feedstock ready for injection mould manufacturing. These Naiteev golf tees, are the only Australian made golf tees and the only golf tees made from Australian plastic waste.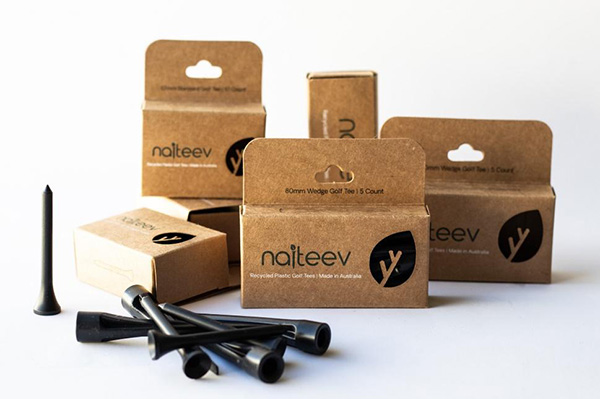 Based in Berowra, Boxhead Plastics has sold or sponsored more than 20,000 golf tees since it launched in March 2021. For more information and to purchase Naiteev recycled plastic golf tees go to the Naiteev website.
---
Waste Matters @ School
Thornleigh West Public School
The future is in good hands with Thornleigh West Public School students. These local waste champions are so enthusiastic about waste and the environment that they have 'green captains' for each class and have formed an Environment Club to promote recycling. Their waste and recycling journey is well underway with a school audit already completed and more to follow.
Hornsby North Public School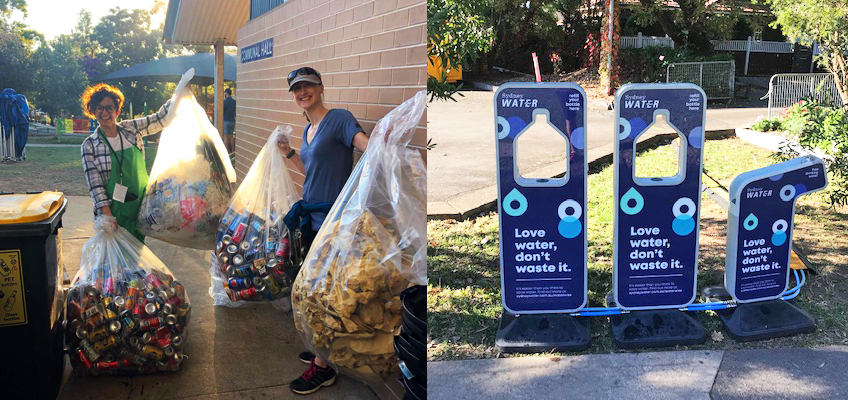 At the Hornsby North Public School community fair they set up a temporary Return and Earn, with all the proceeds going back to the school, what a great idea!
They also encouraged people to bring along their own food containers and all food stalls were required to have sustainable packaging, such as using biodegradable materials and corn starch utensils. To minimise packaging waste, all their raffle prizes were packed in reusable items such as toy baskets or cane hampers. These initiatives greatly reduced the amount of waste generated at the event.
Pennant Hills Public School
At the Pennant Hills Public School fete they collected soft plastics for recycling from the stall holders and provided two waste streams – general and Return and Earn. Their 'green team' was on hand to monitor the separation of the waste streams. Well done 'green team'!
Refillable water stations were provided by Sydney Water, saving 13kg of plastic going to landfill. On the day 602 litres of tap water was consumed, saving 1003 bottles from being purchased, saving the students and families approximately $2,179. Other positive environmental impacts from the water stations included 1505 litres of water saved in the production of plastic bottles and 704 kWh energy saved, which would be equal to running a light bulb for 7,043 hours.
Recycle Right!
Congratulations to both schools for their efforts in reducing waste and encouraging recycling in their local community (these events took place prior to COVID-19 restrictions).
Waste and Recycling Services Guide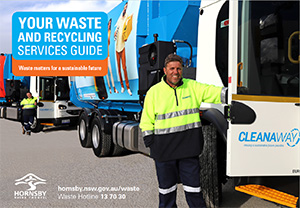 Download a copy of the Waste and Recycling services Council provides.
Waste and Recycling Services Guide – English (PDF 9.7MB)
Waste and Recycling Services Guide – Arabic (PDF 11.3MB)
Waste and Recycling Services Guide – Farsi (PDF 11.3MB)
Waste and Recycling Services Guide – Korean (PDF 11.2MB)
Waste and Recycling Services Guide – Simplified Chinese (PDF 11.5MB)
Waste Matters