Water Pollution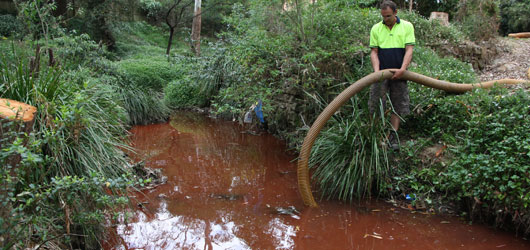 Report water pollution
It's important to begin cleaning up pollution incidents as soon as possible to limit their damage. You can report an incident by clicking the button below or phoning Council on 9847 6666.
Important information when making the report includes:
Location;
Time and date of the incident;
What it looks and smells like;
Whether you witnessed the pollution incident first hand;
Your contact details.
Who investigates water pollution?
Location of Pollution
Who to Contact
Contact Details

Pollution in stormwater, drains, creeks or waterways.

Soil and sediment coming from building sites.

Hornsby Shire Council
(02) 9847 6666
Sewer overflow from main sewer line or manhole.
Sydney Water
13 20 90 (24 hour line)
Pollution from activities carried out by the State, a public authority or a larger (licenced) scheduled premises.
Environment Protection Authority (EPA)
131 555
Discharge from vessels on a waterway.
NSW Maritime Authority
131 256
For more information visit the NSW EPA website.
If you are unsure whether a property is a scheduled premises, the EPA has a license database that can be searched.
Sewage pollution
"Sewage" or "Sewerage"?
Sewage is the waste water that flows through the sewerage. Sewerage refers to the system of pipes, pumping stations and treatment facilities that collect and treat the sewage.
Sewage leaking and overflowing into local waterways is a major pollution problem. Most urban waterways contain high levels of sewage contamination after rain. Problems can occur when stormwater runs into the sewerage system. The integrity of sewers is often compromised by illegal stormwater connections, faulty joints, tree roots cracking pipes, redevelopment of property and by their age and condition. Stormwater infiltration into the sewer during and following rainfall events can cause the sewerage system to have too much water and to discharge through designed overflow points in creeks and stormwater drains.
Popping the pipe: how sewage gets out into the environment
Stormwater pollution
Stormwater is run off from rain that falls on roofs, roads, and open spaces. As urban stormwater runoff flows through street drains and pipes to creeks, rivers, estuaries and the ocean, it collects and carries many types of pollutants.
Council has installed over 400 stormwater quality improvement devices to trap pollutants as part of the Catchments Remediation Rate program.
The four main types of stormwater pollutants are:
Litter such as cigarette butts, cans, food wrappers, plastic bags and drink bottles;
Chemical pollution such as car wash detergent, excess garden fertilisers, paint, oil and grease;
'Natural' pollution such as leaves, lawn clippings and dog poo;
Sediment pollution such as soil erosion and runoff from building sites and cleared bushland.
For more information see: www.environment.nsw.gov.au/stormwater/whatcauses.htm
Ways to prevent stormwater pollution
Sweep gutters and driveways instead of hosing.
Wash your vehicle on the grass, not on the road, then pour any leftover soapy water on the lawn. Or go to a car wash.
Rake up grass clippings and place them in the green waste bin.
Clean water-based paintbrushes over soil or in a sink connected to the sewerage system.
Put cigarette butts in the bin.
Take plastic bags with you when walking the dog.
Is it pollution or iron bacteria?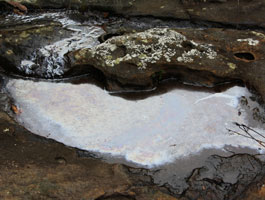 If you have noticed a slimy brown/orange residue in your local creek or drain, it may be iron bacteria - a naturally occurring micro-organism.
There are two quick tests to indicate whether it is iron bacteria or a pollution incident.
Surface test - Poke a stick into the oily looking water. If the surface fractures like ice and does not join back together, it is likely iron bacteria. However, if the surface film clings to your stick and does join back together, then it could be oil.
Smell test - If the odour smells like decaying matter it is most likely caused from the bacteria dying. However, it should not have a toxic smell like sewage, chemicals, petrol or oil.
If you are unsure whether it is iron bacteria and are concerned a pollution incident has occurred please contact Council to investigate.