Bushfire Prone Land Map
A bushfire prone area contains or is near vegetation that could come under bushfire attack.
What does it mean to be in a bushfire prone area?
New development in these areas is subject to the controls of Planning for Bush Fire Protection 2006. It must be designed to improve the survivability of the development and the occupants that are exposed to a bushfire hazard.
How do I find out if my property is in a bushfire prone area?
Online Mapping System
You can use the buttons below, which will take you to Hornsby Shire Council's Bushfire Prone Land Map for both desktop computers and tablets or mobile devices.
PDFs
The map of Hornsby Shire below helps identify which pdf map applies to any property, by selecting the relevant grid which applies to your land.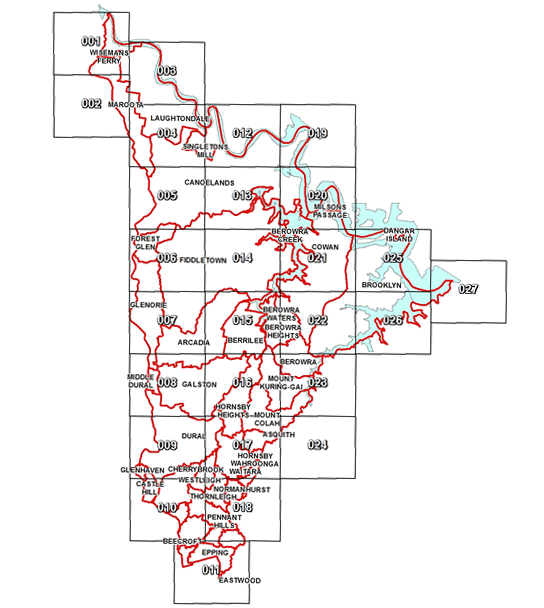 Note: Any areas coloured yellow, red or orange on the Bushfire Prone Land Map are considered to be bushfire prone land. However, the map does not specify the bushfire risk or Bushfire Attack Level (BAL) rating. For further information concerning the BAL rating please refer to the NSW Rural Fire Service website.
NSW Rural Fire Service Bush fire prone land tool
The bush fire prone land online mapping tool ("Tool") has been created using NSW Local Council's bush fire prone maps and is designed to identify if your property is designated as bush fire prone. The Tool is provided by the NSW Rural Fire Service (NSW RFS).
Click here for the online mapping tool
Can you spare a moment for some feedback?
Council is seeking feedback regarding the web mapping application's functionality and useability. Please click on the link below to fill out a survey and send us your feedback.
Click here to begin the survey
Contact Us
For more information please contact Council's Duty Planner on 9847 6760.