Bush Fire Prone Land Map
A bush fire prone area contains or is near vegetation that could come under bush fire attack.
What does it mean to be in a bush fire prone area?
New development in these areas is subject to the controls of Planning for Bush Fire Protection 2019. It must be designed to improve the survivability of the development and the occupants that are exposed to a bush fire hazard.
How do I find out if my property is in a bush fire prone area?
NSW Rural Fire Service Bush fire prone land tool
The bush fire prone land online mapping tool ("Tool") has been created using NSW Local Council's bush fire prone maps and is designed to identify if your property is designated as bush fire prone. The Tool is provided by the NSW Rural Fire Service (NSW RFS).
Click here for the online mapping tool
PDF
The map of Hornsby Shire below helps identify bush fire prone land.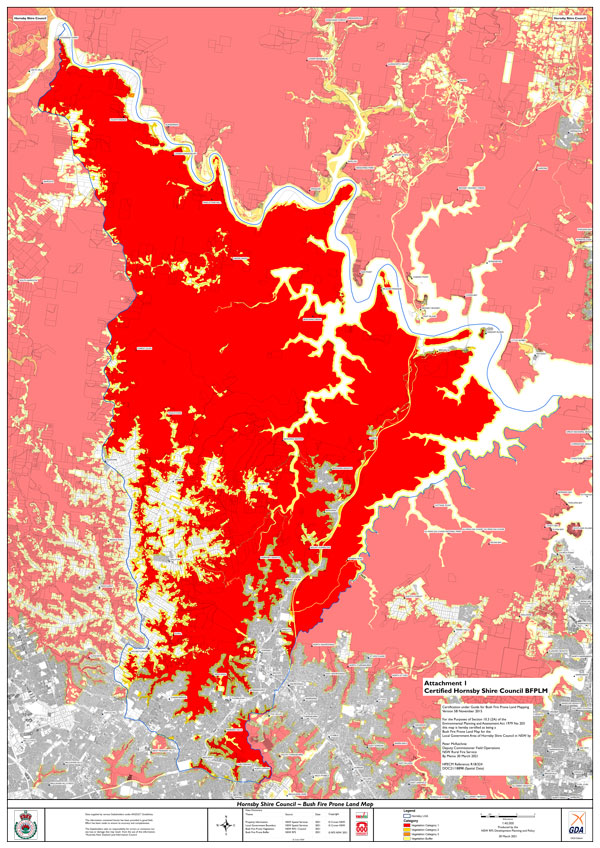 Note: Any areas coloured yellow, red or orange on the bush fire Prone Land Map are considered to be bush fire prone land. However, the map does not specify the bush fire risk or bush fire Attack Level (BAL) rating. For further information concerning the BAL rating please refer to the NSW Rural Fire Service website.
A property described as "a bush fire Prone Property" or "a parcel of land within a designated bush fire prone area" may be only partly in a bush fire Prone Land zone. For clarity refer to detailed bush fire Prone Land Mapping available for viewing on the Council's Mapping System and RFS bush fire Prone Mapping Tool.
Frequently Asked Questions
Bush fire prone land is land that falls within, or partially within, a bush fire prone area which can support a bush fire, or is likely to be subject to bush fire attack. Further, the map includes a buffer of up to 100 metres adjacent to areas of high bush fire hazard and a 30m buffer adjacent to areas of medium to low bush fire hazard. Because of this buffer, you may have land which has no bush designated as being bush fire prone.
State government laws on bush fire protection ensure that people, property and the environment are more protected against the dangers that may arise from bush fires. Bush fire prone land maps are prepared by Council in accordance with RFS mapping guidelines and certified by the Commissioner of the NSW Rural Fire Service (RFS). They are required to be reviewed every five (5) years.
Land being identified as bush fire prone will not necessarily exclude development from occurring on the site. There are special standards to consider before making decisions regarding development on bush fire prone land. As a land owner, you should obtain all relevant information relating to the property and consult with relevant professionals (e.g. Building Designer/Architect and Accredited Bush Fire Consultant) before designing a new home or altering or adding to an existing home. The RFS document 'Planning for Bush Fire Protection 2019' must be addressed in the preparation of an application for development. More information can be found on the RFS website at www.rfs.nsw.gov.au.
Planning for Bush Fire Protection 2019 requires that certain measures be met in order to make a building less likely to be subject to damage or destruction from bush fires. It is not the intention of Planning for Bush Fire Protection 2019 to prevent the development of land in bush fire prone areas, however, in order to provide adequate protection from bush fires, it may be necessary to modify the style, construction material or siting of a building.
Land identified as being bush fire prone is not necessarily excluded from the State Environmental Planning Policy (Exempt and Complying Development Codes) 2008 (Codes SEPP). Under the Codes SEPP, some development can be undertaken on low risk bush fire prone land. You may wish to contact an Accredited Bush Fire Consultant to assist with advice.
The Bush Fire Prone Land Map is intended to designate areas of the Shire that are considered to be at higher bush fire risk for development control purposes. Not being designated bush fire prone is not a guarantee that losses from bush fires will not occur.
Living with the bush is a way of life that we can all enjoy but we must also be prepared for bush fire events. Knowing if you are living within, adjacent or close to Bush Fire Prone Land helps you understand and know your bush fire risk. Importantly, if you live within Bush Fire Prone Land, you should use this information to inform you and your family when preparing a bush fire survival plan. For more information visit: https://www.rfs.nsw.gov.au/resources/bush-fire-survival-plan.
Can you spare a moment for some feedback?
Council is seeking feedback regarding the web mapping application's functionality and useability. Please click on the link below to fill out a survey and send us your feedback.
Click here to begin the survey
Contact Us
For more information please contact Council's Duty Planner on 9847 6760.