Bushfire Management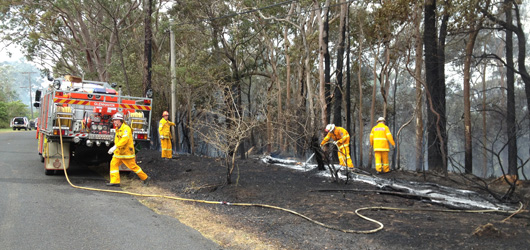 Bushfire management and preparation is an important part of our lives in Hornsby Shire. Over one third of residents live close to bushland reserves and National Parks. While these locations are highly valued, they can be exposed to bushfire risk. The best way to manage bushfire and its risk is by working together as whole community.
What does Council do to reduce bushfire risk?
Council undertakes a range of activities to reduce bushfire risk, including fire trail maintenance, vegetation maintenance, community education, facilitating hazard reduction burning and maintaining controls on development. To see a list of planned Hazard Reduction Burns, go to rfs.nsw.gov.au.
Council's bushfire management strategy is guided by the Hornsby Ku-ring-gai Bushfire Risk Management Plan. The plan and actions within it are developed and overseen by the Hornsby Ku-ring-gai Bushfire Management Committee. Hornsby and Ku-ring-gai Councils', the NSW National Parks and Wildlife Service, Crown lands, the NSW Rural Fire Service and Fire and Rescue NSW and NSW Police are all members of this committee.
Protect your property, yourself and your family
There are many actions that can be undertaken at the personal level to contribute to bushfire preparation and management.
Leisure, recreation and bushfire safety
If you are planning on spending leisure time within the natural areas of Hornsby Shire, be safe and check the following conditions:
Report a bushfire hazard
If you are concerned about a bushfire hazard on private or public property, contact the NSW RFS Hornsby Ku-ring-gai District Office on 9883 2000.