Water Pollution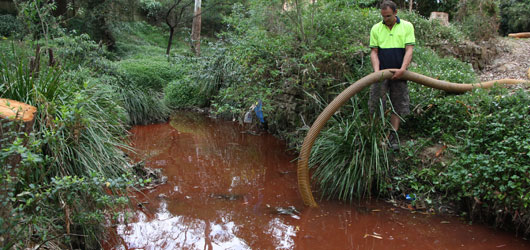 The three main types of water pollution
Litter such as cigarette butts, cans, paper, plastic bags and bottles;
Chemical pollution such as detergents, oil and fertilisers;
'Natural' pollution such as leaves, garden clippings, soil from building sites and animal droppings.
Report water pollution
It's important to begin cleaning up pollution incidents as soon as possible to limit their damage. You can report an incident by clicking the button below or phoning Council on 9847 6666.
Important information when making the report includes:
Location;
Time and date of the incident;
What it looks and smells like;
Whether you witnessed the pollution incident first hand;
Your contact details.
Ways to prevent water pollution
Sweep gutters and driveways instead of hosing.
Wash your vehicle on the grass, not the road, then pour any leftover soapy water on the lawn.
Rake up grass clippings and place them in the green waste bin.
Clean water-based paintbrushes over soil or in a sink connected to the sewer.
Put cigarette butts in the bin;
Take plastic bags with you when walking the dog.
Who investigates water pollution?
Location of Pollution
Who to Contact
Contact Details

Pollution in stormwater, drains, creeks or waterways.

Soil and sediment coming from building sites.

Hornsby Shire Council
(02) 9847 6666
Sewer overflow from main sewer line or manhole.
Sydney Water
13 20 90 (24 hour line)
Pollution from activities carried out by the State, a public authority or a larger (licenced) scheduled premises.
Environment Protection Authority (EPA)
131 555
Discharge from vessels on a waterway.
NSW Maritime Authority
131 256
For more information visit the NSW EPA website.
If you are unsure whether a property is a scheduled premises, the EPA has a license database that can be searched.
Is it pollution or iron bacteria?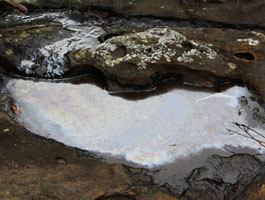 Council often receives reports of water pollution that is actually harmless iron bacteria.
Iron bacteria is a naturally occurring micro-organism that creates a reddish-brown stain in the water. It will sometimes also create a sewage smell or oily sheen.
If the oily sheen fragments when disturbed (use a stick or stone) then it is more than likely created by the bacteria.
If you are unsure whether it is iron bacteria and are concerned a pollution incident has occurred please contact Council to investigate.