Water Quality
Hornsby Shire Council has had some major successes in water quality improvement and conservation.
How is the health of waterways monitored?
Hornsby Shire Council carries out a comprehensive water quality monitoring program, with staff regularly collecting and testing samples from more than 60 locations.There are also six real-time monitoring stations along the estuary gradient which collect data every 15 minutes and transmit to a web portal every 6 hours. This web portal provides information on current water quality, estuarine health and swimming conditions.
View the latest data on the Web Portal
Algal Bloom Monitoring
Toxic algal bloom warning in Broken Bay – 20 December 2022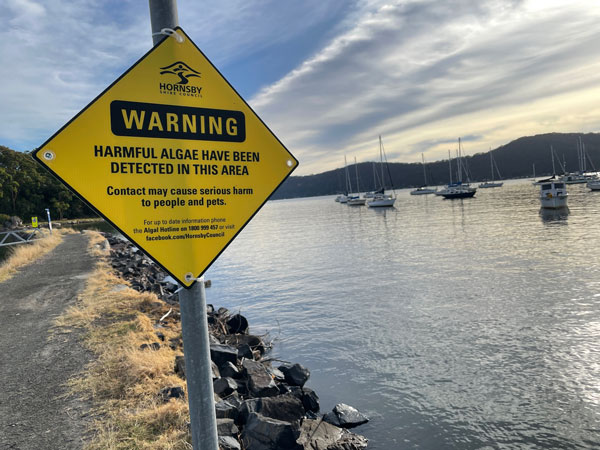 NSW DPI advises recreational fishers not to consume shellfish including bivalves (mussels and oysters) or the hepatopancreas (guts) of crabs and lobsters (white meat is safe to eat) caught in the Broken Bay area, including the waters of Broken Bay upstream to Cowan Creek, the coastal zone between Little Beach (Bouddi) and Bangalley Headland and Pittwater.
Paralytic shellfish toxins are produced by certain toxic algae species. Alexandrium species that can produce paralytic shellfish toxins are continuing to bloom in the Broken Bay area. Shellfish taken from this area should not be eaten. Cooking does not destroy the toxins. Paralytic Shellfish Poisoning is rare, but it is important that people follow this advice to avoid getting sick - bit.ly/3CUCIE2
Monitoring of other commercial shellfish harvest areas along the NSW coast has returned negative results for paralytic shellfish toxins. Based on these results, there is no longer an elevated risk for areas outside of Broken Bay. Seafood in shops and restaurants is safe to eat because the NSW Food Authority monitors the safety of commercially harvested shellfish.
This alert only reports algal blooms that have been brought to the attention of NSW DPI. Given the current adverse weather conditions caution is advised by avoiding consumption of recreationally harvested shellfish.
Council will keep the community informed here and on the Council Facebook page.
Read the Algal Bloom Facebook post, 20 Dec 2022.
To find out what to do when a harmful algal bloom is present, click either of the following links:
What is the water tested for?
The water is tested to assess long-term ecosystem health, stormwater harvesting programs and activities that influence water quality such as wastewater treatment plants.
At each site a portable probe (YeokalTM 615 Sonde) is used to measure:
Dissolved Oxygen (DO% sat and DO mg/L)
Electrical Conductivity (EC ms/cm and ECµs/cm)
pH
Salinity (ppt)
Temperature (ºC)
Turbidity (NTU)
A sample is also collected from each site and tested for:
Bacteria (Faecal coliforms (CFU/100mL),Ecoli and/or Enterococci (CFU/100mL)
Nutrients (total nitrogen, oxidised nitrogen,ammonia nitrogen and total phosphorus) (mg/L)
Suspended Solids (mg/L)
Chlorophyll-a (µg/L) at estuarine sites only
Results
The general trend is that better water quality results are recorded where catchments remain primarily undisturbed, usually in National Parks and Nature Reserves. Results tend to decline downstream of rural and urban settlements, with the most impacted water quality being recorded downstream of industrial areas. Stormwater and sewage from overflows or failing infrastructure continue to be a problem in industrial and urban catchments. Onsite wastewater management systems continue to place stress on waterways in rural settlements. Rural catchment activities such as the intensive use of fertilisers and reduced vegetation also impact receiving waters further downstream.
Estuarine areas are generally good, though the upper sections of Marramarra and Berowra Creeks show signs of impacts from the upper catchments. Despite significant upgrades to the West Hornsby and Hornsby Heights Sewage Treatment Plants in early 2000, both Berowra Creek and Calna Creek are impacted by treated effluent being discharged.
Rainfall has a major impact on water quality and can influence water quality by increasing turbidity and suspended solids in stormwater, washing rubbish and contaminants into streams and creeks and increasing the likelihood of overflows from sewerage systems into waterways in developed areas. The magnitude of contamination at a sampling site is related to the quantity and the intensity of rainfall and to how recently rainfall occurred before the sampling.
Waterway Health Review
Council's Waterway Health Review analysed 22 years' worth of data and provides a comprehensive understanding of the current conditions of our creek, estuary and river systems in combination with recommended management actions to protect Hornsby Shire's highly valued local waterways.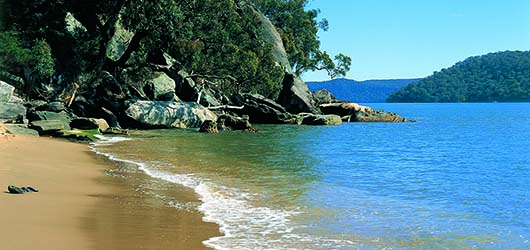 Swimming in our waterways
Did you know that there are many places where you can enjoy a swim in our waterways? Find out about swimming conditions before you dive in.