Hawkesbury Watch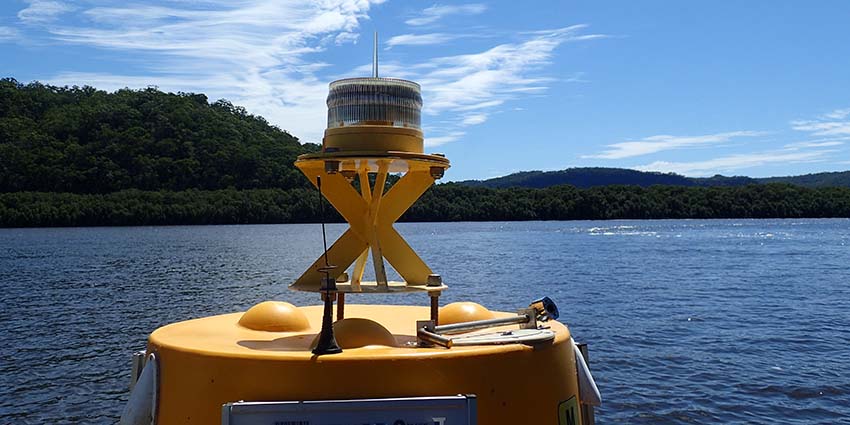 Hornsby Shire Council's Hawkesbury Watch program gives real-time information on water conditions in the Hawkebury River. The program is unique to Australian estuaries and uses remote monitoring buoys to provide constant updates on a range of water quality data.
Data from the buoys is presented to the community through Council's website, allowing residents to stay informed about swimming conditions and the general health of the waterway.
How it works
Six real-time water quality probes are permanently moored in the estuary between Wisemans Ferry and Broken Bay collecting water quality data every 15 minutes. The probes take a range of measurements, including temperature, salinity, chlorophyll-a and turbidity.
What are the benefits?
The most valuable aspect of Hawkesbury Watch is its ability to inform the public about the water quality in real time whereas laboratory analysis can only report on the water quality from several days ago. Information that is available includes water temperatures, algal growth, swimming conditions and other parameters on a daily basis.
Estuary Health
Estuaries are important natural places that sustain key aquatic species and, provide good habitat and cultural, social, economic and ecological services that are important to a region. Estuaries managed in sustainable ways support a variety of ongoing economic benefits to communities and industry. Our estuary health is compared to other rivers in NSW.
Swimming Conditions
Swimming conditions are predicted from the likelihood of bacterial contamination at typical recreational sites based on correlations with salinity levels as a proxy for rainfall and pollutants runoff. Swimming sites could also be affected by harmful algae blooms (see below).
Algal Bloom Monitoring
An algal bloom occurs when one particular type (species) of algae grows much more quickly than other species. This can cause discolouration of the water or a reduction in the levels of dissolved oxygen (which can cause fish kills). Some species of algae can also produce toxins that can be harmful to fish, birds and humans.
Find Out More See Current Alerts
Probe Locations