Waste services to residents with Assisted Living Needs
Did you know that Council provides support to residents with assisted living needs?
To receive assistance to place your waste or recycling bins at the kerbside for collection, the following criteria must be met:
No resident of the premises is reasonably able to place a mobile bin out for collection
No alternative arrangements can be made, including, but not limited to:

Relatives, neighbours or household employees placing a mobile bin out for collection
Relocating the bin storage point and / or bin collection point to minimise or eliminate the need to move bins

Assisted households may only receive assisted waste services direct to the property if a Medical Certificate is provided to Council supporting the resident's inability to self-present bins to the kerbside
These services can only be provided without placing the waste collection contractor or its employees in a situation of unacceptable health and safety risk.
For more information please contact Council's Waste Hotline on 13 70 30 or email waste@hornsby.nsw.gov.au.
Waste Matters
Waste and Recycling Videos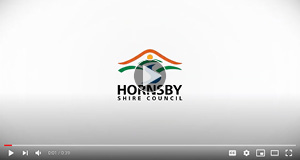 Get some tips and advice on what you can do to recycle right.