E-Waste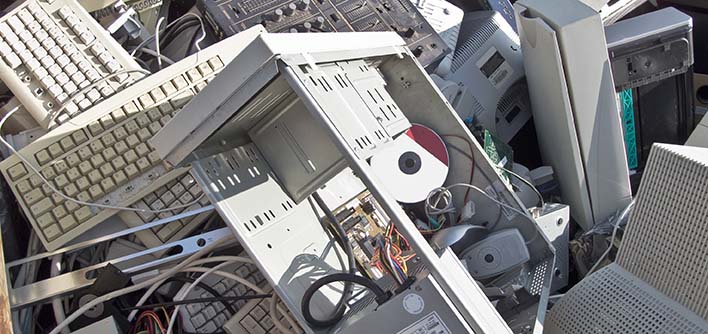 What is e-waste?
E-waste includes televisions, desktop computers, laptops, tablets, PC monitors, loose hard drives, keyboards, plastic computer speakers, motherboards, video and sound cards, printers (with toners removed), scanners, network devices, set top boxes, mice, other computer parts, cables, IT accessories, gaming equipment, web cameras, DVD and VCR players, CD and DVD discs (discs only not the covers).
What happens to our e-waste?
Hornsby Shire Council accepts e-waste at our Thornleigh Community Recycling Centre. This waste is collected by Council's contractor, Sims Recycling, who then takes it to the Sims Villawood facility, where it is manually separated by material type for easier processing.
Some items will require special handling as they contain mercury and other heavy metals.
After these items have been removed, the e-waste is then placed in an automated shredder, where commodities are removed separately using eddy currents, magnets and other metal finding technology.
Steel, plastic, aluminium and other components are then sent to Sims' partner organisations in Australia and overseas, for reuse and recycling. Precious metals including copper, gold and silver are also separated from circuit board materials for reuse.
Your e-waste is then turned into new electronic items, electrical wiring, water piping, engine parts, building products and more.
Mobile Phones and Printer Cartridges
Mobile Phones and accessories can be dropped off at the Thornleigh Community Recycling Centre for recycling by Mobile Muster.
Printer Cartridges can be dropped off at the Thornleigh Community Recycling Centre for recycling by Planet Ark.
In 2019 Hornsby Shire was awarded 'Top printer cartridge recycler' in Australia by Planet Ark and 'Top mobile phone recycler' in Australia by Mobile Muster.
Location: 29 Sefton Road, Thornleigh
Opening Hours: Tuesday to Friday, 8:30am – 4pm, Saturday 8.30am – 12 noon, closed public holidays
Waste Hotline: 13 70 30
How Computers Are Recycled