How to lodge a DA
Online Development Application and Planning Related Applications Lodgement
As of 1 July 2020, all Development Applications and other planning related applications must be lodged with Hornsby Shire Council electronically via the NSW Planning Portal. This is an initiative of the Department of Planning, Industry and Environment, and they have established the Portal for lodgement of applications.
Hard-copy applications will no longer be accepted at Council's Administration Building, either in person or via the mail. Council's Customer Service Team will be happy to assist you in lodging your application via the NSW Planning Portal.
The NSW Planning Portal allows for a more convenient and environmentally friendly process for the lodgement of your application, allowing you to lodge online — anywhere, anytime.
You can now lodge the following Applications and Certificates through the NSW Planning Portal:
Development Application
Section 4.55 Modification Application
Section 8.2 Review of Determination
Complying Development Certificates
Construction Certificates
Occupation Certificates
Subdivision Certificate
PC Appointment
Subdivision Works Certificate
To Submit Online
To submit your application online you need to register for a Portal account. Once registration is complete you will be required to fill out an online application form and upload your application documentation.
It is necessary to submit the same documentation with your online application that is required by Council's checklists.
Payment
If your application is complete it will be accepted for lodgement and Council's Customer Service Team will contact you via the Portal to arrange payment of the application fees.
Payment of the invoice must be made within 48 hours of receipt otherwise the application will be cancelled.
Applications are not considered to be legally lodged with Council until the application fees have been paid in full.
Next Steps
Council's Assessment Team will check your application to make sure that it includes everything needed in order to assess your proposal.
During the assessment of your online application, if Council requires additional information this will be communicated to you through the Portal. All additional information you provide to Council must be submitted through the Portal.
Council will also send your DA to any government agencies that require Concurrence or Integrated Development through the Portal.
After the assessment process is completed, you will be notified about your application through the Portal.
Further information on online applications is available on the NSW Planning Portal.
Need Assistance?
If you need assistance using the Online application service, please visit the Department of Planning How To Guides or contact Service NSW on 1300 305 695 for additional support.
Applications Not Available through the E-Planning Portal
For the lodgement of the following planning applications please visit Council's Online Services Portal:
Application for Approval to Install a Wastewater Management System
Application for Vehicular Crossing Boundary Levels
Building Certificate
Bushfire Attack Level Certificate (BAL)
Execution of Legal Documents
Hoarding/Temporary Fencing
Out of Hours Construction
Pre-Lodgement Application and Written Planning Advice
Swimming Pool Barrier Inspection Request/Compliance Certificate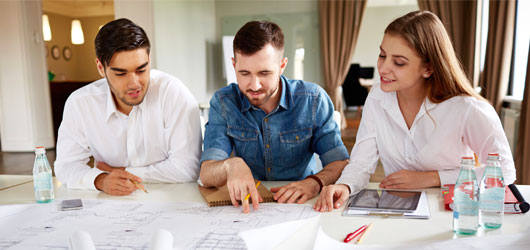 Follow this simple step-by-step guide to submit your DA.
Step One – Do you need a DA?
Minor works on your property can be exempt from a development application or fast-tracked with a Complying Development Certificate.
The NSW Government's Exempt and Complying Development eModule is an online system that will tell you if your application is complying or exempt from approval altogether.
It will also help you investigate, prepare, lodge and track your Complying Development Certificate.
Step Two – What is your property's zone?
Every piece of land in Hornsby Shire is classified under a development zone that determines what can and cannot be done there. Use this interactive map to find the zoning of your land:
If you're having trouble with the map you can also find out your land's zoning by using the Property Enquiry tool.
Step Three – What can be done in your zone?
The permissible development in each zone is determined in consultation with the NSW Government. The Land Use Matrix - 56kb will tell you what is allowed in your zone.
Step Four – What are the planning controls?
Hornsby Shire Council has established planning controls that provide a simple outline of the types of development that are allowed.
Step 5 – Put your application together
Fill out all the details in the below form and use the checklist to make sure all the relevant information is included. There is also a guide to walk you through the process in greater detail.
Step 6 – Find out the application fee
The application fee is a proportion of the development value. It covers Council costs, including notifying the community of your development and the assessment process.
Please note that in most cases a Section 7.11 or 7.12 (formerly 94 or Section 94a) contribution fee will also be applicable after the development application is approved.
To find out the fee for your DA phone Council's Customer Service on 9847 6666 and quote the development value.
Step 7 – Lodge your DA
Lodgement of applications is now online until further notice. Details of the online application process will be available shortly.
What happens next?
A preliminary assessment will be made by a Council officer, ensuring that all the relevant details and documents are in place. They will also decide if any other bodies, such as the Rural Fire Service, need to have input in the approval.
You may be contacted by the assessment officer if there is something missing from the application or if they have an amendment to suggest that would make the development easier to approve.
If a heritage-listed item or Heritage Conservation Area is involved the application will be referred to the Heritage Review Committee, which will make a recommendation on the application.
A notification period, which is typically between 14 and 30 days, will give members of the public a chance to comment on the development. The DA will be advertised in the local newspaper and on Council's website, a sign will be placed on the property and neighbours will be informed by letter.
The assessment officer will then visit the site, address community concerns and either make a decision or refer the application to a Council meeting.
An application generally goes to a Council meeting if it is likely to have a major impact on the community, if it has attracted a significant number of negative comments or if the applicant is objecting to the decision made by staff. Council meets on the second Wednesday of every month and the councillors will make a decision on the application by voting.