Essential Roof Works
Overview
Weather permitting, from 1 March, you will notice contractors onsite completing works on the vapor barrier/guttering of the HALC. This will not have any impact on current operations for the first week.
A crane will be delivered on Sunday 7 March at the HALC. This means the driveway and carpark will be closed from 2pm and no access to the carpark or driveway will be permitted for the rest of the day. The Centre will remain open as per normal Sunday operating hours.
Full works will commence from Monday 8 March for the roof sheet replacement at the HALC. These works are essential to reduce the condensation levels in the pool hall. Due to the nature and location of these works, it's too weather dependent to provide an exact completion date at this stage.
What will this look like
The roof sheeting will be completed in three stages, which will require sections of the pool hall to be completely closed off to patrons. If we have good weather, each section should take approximately two weeks for completion. Staff will ensure patrons are given instructions of when and where you can swim on each visit.
Stage one
While the works are being completed over the indoor 25m Learn to Swim pool stage 1, there will be no public lap swimming available in the 25m pool from 7am-7pm Monday to Thursday. Friday remains as currently scheduled.
Gentle exercise and walking will still be available in the 17m lane of the indoor leisure pool from 5:30am to 8:00am & 12:30pm to 3:00pm, during stage 1.
Learn to Swim will run afternoon classes as normal and morning class will move to the 17m lanes in the Leisure Pool Monday to Thursday.
Stages two and three
Stages 2 and 3 will impact the 17m lanes, plus the entire Leisure Pool, Multi-purpose Room and Change Rooms. Council will provide updates and further information as this occurs.
Below highlighted in red are the stages when pool areas and the multipurpose room will be closed off to the public.
Stage One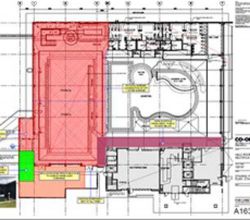 Stage Two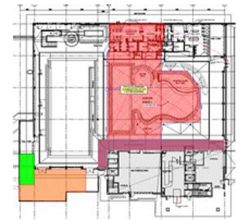 Stage Three