The Lakes of Cherrybrook Playground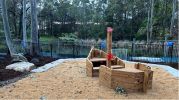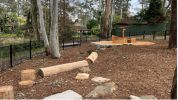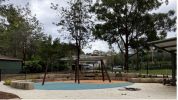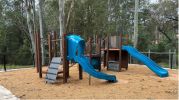 Features
We are happy to finally open the playground after a long-anticipated wait from the community who have been eagerly watching its construction over the last 4 months. The new playground now features a new run-around nature play area with a large frog for children to 'hop' into the boat overlooking the lake. With plenty of informal seating we hope to see users enjoy the beauty of the site. As Council completes the first stage of the Lakes of Cherrybrook upgrade. Council will be looking to complete stage 2 which includes installation of more footpath connection surrounding the playground. A new boardwalk and bridge upgrade which are scheduled this November. During this time, there will be footpaths closed off to the public as these works are related to stage 2 boardwalk works. For more information on stage 2 works, please see the concept plan.
Fenced playground located next to the lakes with BBQs and picnic shelters. Take a short bush walk in the surrounding trails and spot water birds from one of the viewing platforms.
Facilities
Play equipment; Fenced; Picnic tables; Walking trails; Shaded areas; BBQs.
The Lakes of Cherrybrook Playground
Corner Shepherds Drive and Macquarie Drive, Cherrybrook