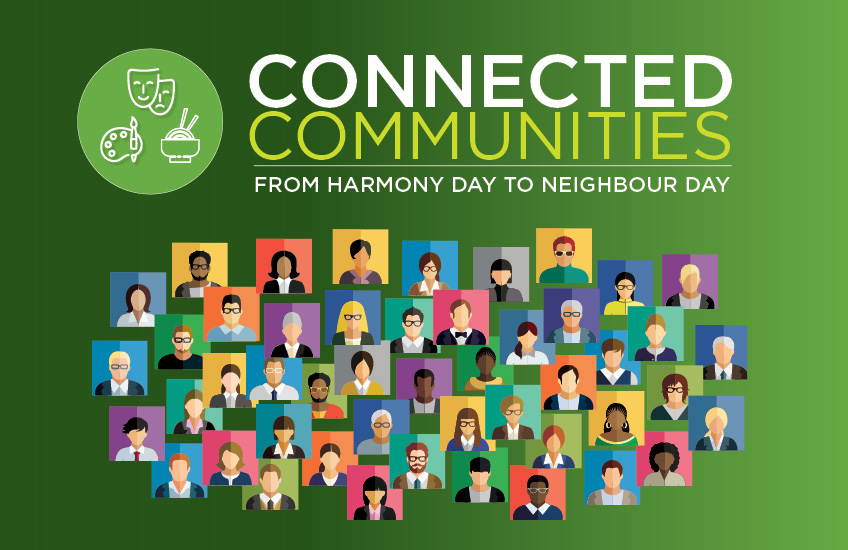 Celebrating diversity and strengthening community connections
Sunday 21 to Sunday 28 March, 2021
Join us for a virtual journey around the world as we celebrate everything from Harmony Day to Neighbour Day.
Sunday 21 March, 10am: Singing in Harmony
Featuring Peking Opera, choir performances, dancing and more.
Monday 22 March, 10am: Exploring Korean and Japanese Traditions
Featuring cooking and origami.
Wednesday 24 March, 10am: Exploring South Asian Customs
Featuring cooking, henna art and rangoli crafts.
Friday 26 March, 10am: Exploring Chinese Heritage
Featuring Chinese cooking, arts and crafts.
Sunday 28 March, 10am: Creative Connections
Featuring multicultural performances and a virtual trip through our most picturesque neighbourhoods.
Neighbour Day
Sunday 28 March: Neighbour Day is an annual celebration that encourages people to connect with their communities; bringing together the people next door, across the street or on the next farm. It is the perfect day to say thanks for being a great neighbour, connect with new neighbours, and feel part of your community.