Re-magine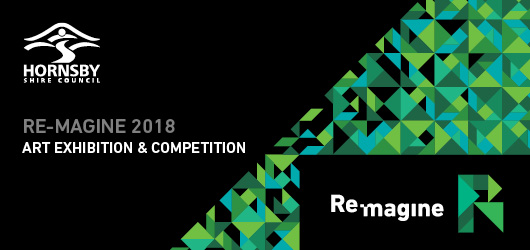 Run in conjunction with Hornsby Art Society and sponsored by Cleanaway, Re-magine 2018 once again celebrated the re-use and recycling of waste in Hornsby Shire through art.
We would like to congratulate the Remagine 2018 artists, who through their imaginations and creativity transformed items which would otherwise be thrown away into beautiful works of art and provided a wonderful Remagine 2018 exhibition.
2019 will see us celebrate 10 years of talented artists upcycling everyday items into creative treasures. Look at rubbish creatively. Get inspired. Get your artwork on show as part of Remagine 2019 (online entries will open in November 2018).
Congratulations to the following artists who won prizes as part of the Remagine 2018.
JUNIOR CREATIVE

Winner: Berowra Christian School

Class Menagerie

Runner Up: Rylee Dagan

Bird House

MIXED MEDIA

Winner: Beverly Beck

Carousel Horse

Runner Up: Michelle Kirk

Bottle Blossom

Highly Commended: Daniel Nolan

Australian Ugliness

3D SCULPTURE

Winner: Fiona Glaister

Ocean Coral & Sea Anemone Metamorphosis from Plastic Waste

Runner Up: Wendy Schuster

Glass & Copper Nouveau

Highly Commended: Jody Graham

Urban Dweller

FUNCTIONAL ART

Winner: Scott Coonan

New Leaf Turned

Runner Up: Meri Peach

Basket for Kate

People's Choice Winner: Fiona Glaister

Ocean Coral & Sea Anemone Metamorphosis from Plastic Waste

Cleanaway Award Winner: Aurelia Winzenberg

The Trees Within our Books