Hornsby Shire Library Service is celebrating its 50th anniversary!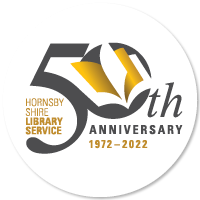 Opened in Hornsby on 29 April 1972, the service has gone from strength to strength, cementing its place in the hearts of residents.
From borrowing your first book, studying for your HSC to meeting your favourite author, joining a book club or discovering your family history, the library has been the site for many cherished memories over the past five decades.
Read more about its 50-year history, discover some very interesting fun facts, find out more about its focus for future generations and join us to celebrate in a rolling event series over the next 12 months.
| | |
| --- | --- |
| 1972 | Hornsby Central Library opens on 29 April at 296 Pacific Highway. |
| 1973 | Galston Branch Library and Pennant Hills Branch Library open. |
| 1975 | Epping Branch Library opens. |
| 1977 | Weekly Storytime begins at Hornsby and Epping. |
| 1978 | Online computer system introduced. First of its kind in NSW. |
| 1980 | Berowra Branch Library opens in the Berowra Community Centre. |
| 1981 | Cassettes Collection available for borrowing at Hornsby and Epping. |
| 1984 | Home Library Service established. |
| 1985 | Local Studies Collection created. |
| 1986 | Family History Collection introduced at Hornsby. |
| 1992 | Young Adult fiction is introduced. |
| 1993 | CD-ROM is made available for public use at Hornsby. |
| 1995 | Hornsby Central Library relocates to its current location. |
| 1996 | CDs and videos are made available at Epping Library. |
| 1999 | Internet is established at Hornsby and Pennant Hills. |
| 2007 | Knitting Group starts at Hornsby. |
| 2012 | eLibrary services commence. |
| 2015 | Rapid Reads Collection introduced at all branches. |
| 2016 | Restructure of Council boundaries, Epping Library becomes part of City of Parramatta Council. |
| 2017 | Children's STEM Collection begins with the introduction of Launchpads. |
| 2019 | Quick Choice Collection is introduced. |
| 2021 | Refurbishment of Hornsby Library. |
| 2022 | Discovery Space is launched in April. |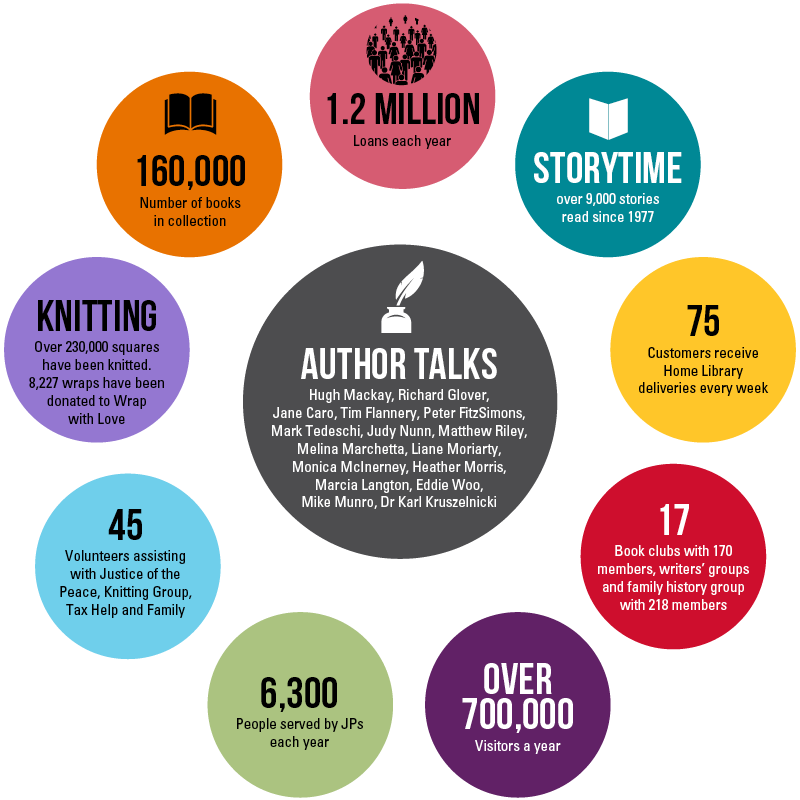 1972
1982
1992
2002
2012
2022 so far
ADULT FICTION
Watership Down
by Richard Adams
Schindlers Ark
by Thomas Keneally
The English Patient
by Michael Ondaatje
Kafka on the Shore
by Haruki Murakami
Gone Girl
by Gillian Flynn
Apples Never Fall
by Liane Moriarty
ADULT NON-FICTION
Ways of Seeing
by John Berger
An Uncommon Freedom by Charles Paul Conn
Men are from Mars, Women are from Venus
by John Gray
The Purpose Drive Life
by Rick Warren
I am Malala
by Malala Yousafzai
So, You Think You Know What's Good for You
by Dr Norman Swan
CHILDREN'S FICTION
Alexander and the Terrible, Horrible, No Good, Very
Bad Day by Judith Viorst
The BFG by Roald Dahl
The Rainbow Fish by Marcus Pfister
Coraline
by Neil Gaiman
Too Many Elephants in
this House by Ursula Dubosarsky
Cat Kid Comic Club by Dav Pilkey
The Discovery Space is now open at Hornsby Library where the next generation can explore their creativity and connect with new technology.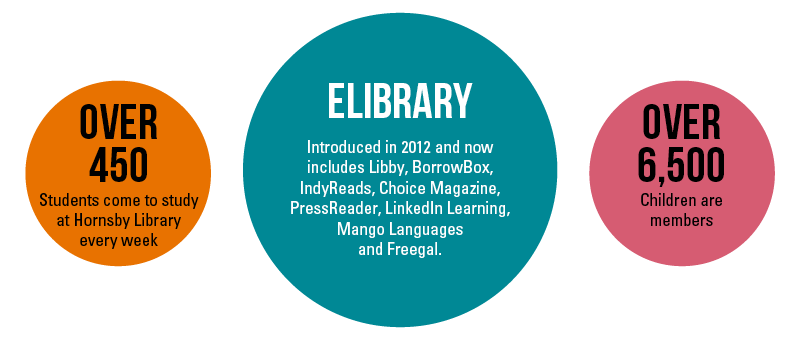 Commencing in our anniversary week, Hornsby Library Service will be holding a series of rolling events to celebrate its 50th year. Join in and discover more.