Hawkesbury River System Coastal Management Program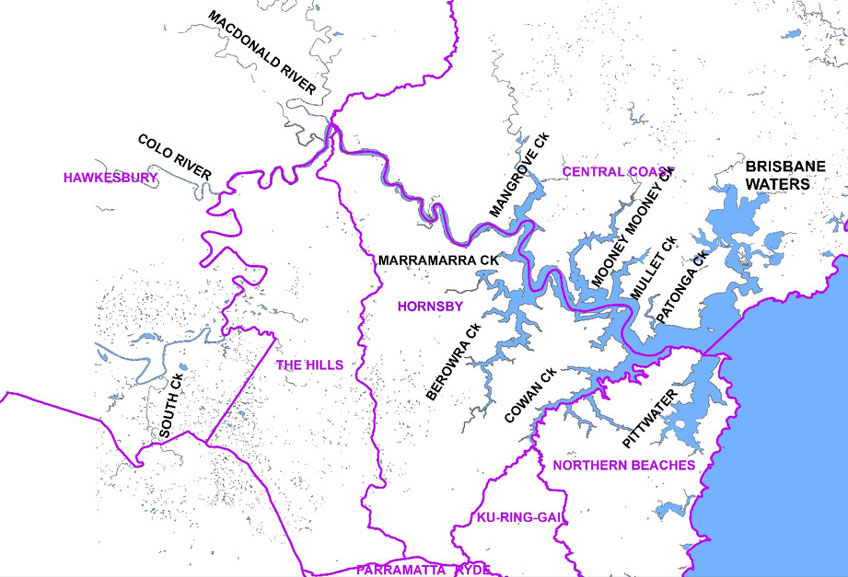 Hornsby Shire Council in partnership with the five Councils that have management responsibility of land and coastline along the Hawkesbury River, is preparing a new management plan for the Hawkesbury River System covering of the area of estuary between Yarramundi (the tidal limit of the river) to the estuary entrance between Box Head and Barrenjoey Head.
Our partnering councils are: Hawkesbury City Council, The Hills Shire Council, Central Coast Council, Ku-ring-gai Council and Northern Beaches Council. The coastal zone of the Hawkesbury River/Estuary system is currently being managed through a variety of different plans, data and corporate documents according to each Local Government Area. Having the six Councils working together on this project means we can use an integrated approach to manage the Hawkesbury estuary/river, in particular, on issues that cross jurisdictional boundaries.
Our goal is to prepare a Coastal Management Program (CMP) that sets out the long-term strategy for the coordinated management of the coastal zone along the Hawkesbury. The program will focus on achieving coastal management objectives at a local level whilst, also achieving the objectives of the Coastal Management Act 2016, the State Environmental Planning Policy 2017 and the NSW Coastal Management Manual.
The CMP will provide:
an opportunity for councils, public authorities and local communities to identify and balance competing interests and priorities in the coastal zone
implement efficiently NSW government guidelines for coastal management
provide recommendations for the future management of the Hawkesbury
A CMP is prepared through a five staged risk management process described in the NSW Coastal Management Manual. We are aiming to have the CMP completed by December 2021. For further information and progress on the Hawkesbury-Nepean River System CMP, visit the website.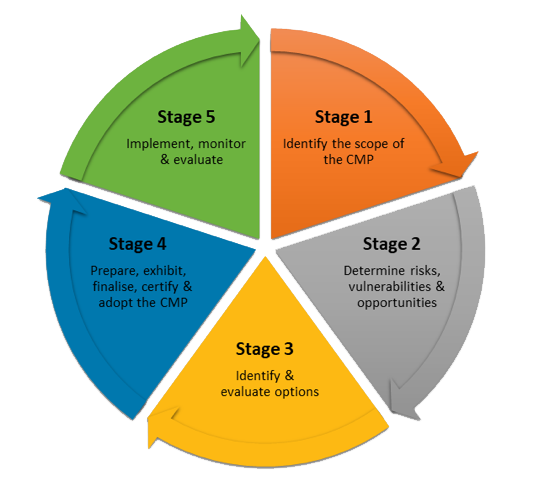 Stage 1 Scoping Study of the Hawkesbury-Nepean Coastal Management Program (CMP) has now been completed. This study has addressed the following components:
Strategic environmental, social, economic, planning and governance context for coastal management
Purpose, vision and objectives of the CMP
Review of past approaches and arrangements to management of the river and its catchments
Developed a shared understanding of current challenges and opportunities
Identification of roles and responsibilities including other councils and relevant public authorities
First-pass risk assessment of threats and stressors in the Hawkesbury-Nepean River System
Assessed information gaps to be filled to support sound decision-making
Identify where action is required, including studies to be completed in Stage 2 and the coastal management areas to which they apply
Stakeholder and community engagement strategy
Preliminary business case to develop a full CMP
Plan for future stages and timetable for CMP preparation. Include a timeframe for steps in the preparation of a planning proposal if changes to the LEP are proposed
You can find a brief summary of the development and findings of Stage 1 Scoping Study for the Hawkesbury-Nepean River CMP in this link
For further information, please contact
Peter Coad
Natural Resources – Strategy Manager
Phone: (02) 9847 6766
Email: pcoad@hornsby.nsw.gov.au