Sydney Water - Critical Water Main Renewal in David Road, Castle Hill
Sydney Water are renewing the water main along David Road in Castle Hill.
This is not just about pipes. It's about water – clean, life sustaining water.
Our work will ensure we can continue to give you clean and reliable water every day.
Work schedule
Sydney Water are renewing the water main along David Road in Castle Hill. This repair will be done using a process known as relining. Relining is an effective way to repair a water main instead of digging to replace it. We do this by inserting a new pipe into the existing pipe.
Most of the work can be done during the day but we'll need to shut off water services so we can connect to the new pipe. This needs to happen at night. The map below shows the work area.
Work will start on Thursday 28 January 2021 and continue to mid-March 2021, weather permitting.
Work hours are 7am-6pm Monday to Friday and 8am-1pm Saturdays.
On Wednesday 3 February 2021, we will work at night between 7pm and 6am.
Our aim is to get the work done in one night but we may need to return on the night of Thursday 4 February 2021 to finish up.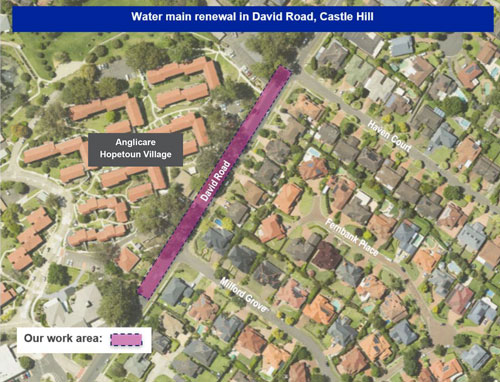 How will the work affect you?
Work can be disruptive, so we'll make every effort to reduce any impact this work may have on you.
There will be some noise from our machinery. We will schedule the noisiest work to be completed before midnight.
Work will take up space on the street. Our traffic controllers will help traffic flowing on David Road while keeping you safe.
At times, we will need to take some parking spaces on David Road to do this work. Our crews will put up signs where temporary parking changes apply.
We'll temporarily restore disturbed areas to allow for continued use. When work is complete, we will liaise with Hornsby Shire Council to complete permanent restoration.
Your water services may be temporarily interrupted from 9 pm to 4 am on Wednesday 3 February 2021. We will notify you (by letter) if your services will be affected.
If you would like to know more, please contact our community engagement team at confluence@sydneywater.com.au or call 1800 943 119.