Ten new street libraries for Hornsby Shire
Publish date: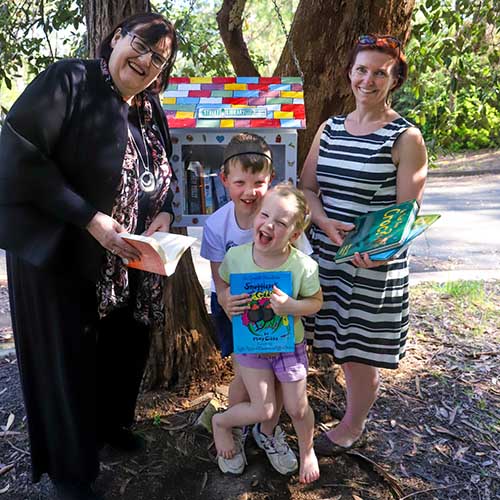 Hornsby Shire Council is welcoming and congratulating 10 new street library hosts, the winners of Council's street library give-away.
"As many as 53 residents put up their hand willing to host a street library for their neighbourhood," Hornsby Shire Mayor Philip Ruddock said.
"This just confirms the great community spirit within our shire."
Councillor Janelle McIntosh is pleased with the fantastic response to the street library give-away.
"I am a big fan of both books and community run projects," Councillor McIntosh said.
"So it's really no wonder that I was keen to support this initiative from the word go and I am looking forward to seeing the street library movement taking hold of our shire."
The budding librarians who won the council-sponsored street libraries were chosen based on their application and location in the suburbs of Berowra Heights, Hornsby, Mt Kuring-gai, North Epping, Pennant Hills and Thornleigh.
The initiative was organised in collaboration with Street Library Australia, and the exact library locations will be added to their street library map at http://streetlibrary.org.au/find
The first winners to have their new street library up and running are Pennant Hills locals Bernadette Whiting and her family.
As a working mum Mrs Whiting understands how many others may struggle to find the time to connect with their neighbours.
"I want to help promote the spirit of a community that looks after each other," Mrs Whiting said.
"And I really enjoy seeing people stop by, contribute and form a connection with others they may not otherwise have.
"I hope that through our little library people can share - their love of reading, their books, their conversation, and get to know others who live in the area."
And, for the mother of three, one of the best things about their Blackbutt Street Library is seeing how proud her children are to have created something others can enjoy.
"It's great that people can feel happy and come whenever they want, not have to worry about overdue books and it's free, too," James (8) and his brother Lewis (6) said.
"We tell everyone that we have made a street library," their sister Emily (4) said.
"You can come and borrow some books anytime because that's what friends are for."
Image: Councillor Janelle McIntosh (left) enjoying the Blackbutt Street Library with James (8), Emily (4) and Bernadette Whiting