Remagine celebrates the art of recycling
Publish date: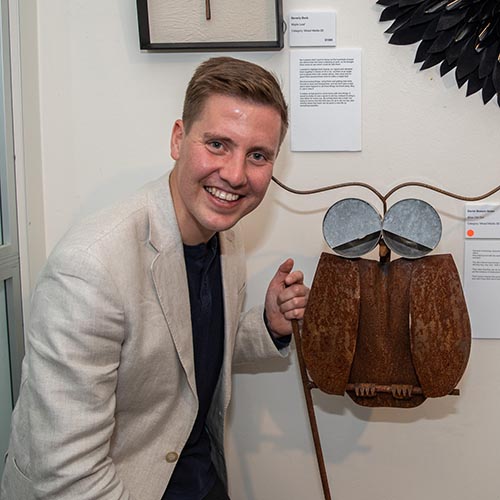 Hornsby Shire Council has once again celebrated the fusion of art and sustainability, announcing the winners of the Remagine competition.
The annual competition, which is managed in conjunction with Hornsby Art Society and sponsored by Cleanaway, is now in its 10th year.
Hornsby Shire Mayor Philip Ruddock sees the event as a chance to support local artists while also advocating the benefits of recycling.
"All of the artworks have been made entirely from recycled material, which is a great way to broadcast the important sustainability message," Mayor Ruddock said.
"This year's entries were particularly innovative and creative; all the artists are to be congratulated."
The winner for Mixed Media 3D winner is Daniel Boesen Nolan for 'Wise Old Owl' and the runner up is Daniel Burkhardt for 'Buy – Sell'.
The winner for Mixed Media 2D is Daniel Burkhardt for 'No Shopping - No Spending' and the runner up is Vynka Hallam for 'Mr Campbell'.
The winner for Digital Art – Stills is Rick Bull for 'Taste the Consumer', while the joint runner ups are Emma O'Connell for 'Less is More' and Rob Anthony Davis for 'The Goddess Nike and the Golden Apple'.
The joint winners for the Cleanaway Resource Recovery Award are Stephanie Powell for 'Memory Fish' and Jessica and Jim Harwood for 'Retired, Reclaimed and Recycled'.
This year's artists were asked to create works that addressed the idea that our society is "addicted to consumerism".
"Waste isn't something that just happens, it's something we do with the daily choices we make when purchasing and discarding unwanted items," Mayor Ruddock said.
"By changing the way we view waste and consumption, we can save valuable natural resources for future generations."
All the finalist works are currently on exhibition until 16 June at Wallarobba Arts and Cultural Centre, open daily from 10am to 4pm.
For more information please visit www.hornsby.nsw.gov.au/remagine
IMAGE: Daniel Boesen Nolan with his artwork for 'Wise Old Owl', which won the Mixed Media 3D prize