Hornsby Shire's Community Recycling Centre celebrates
Publish date: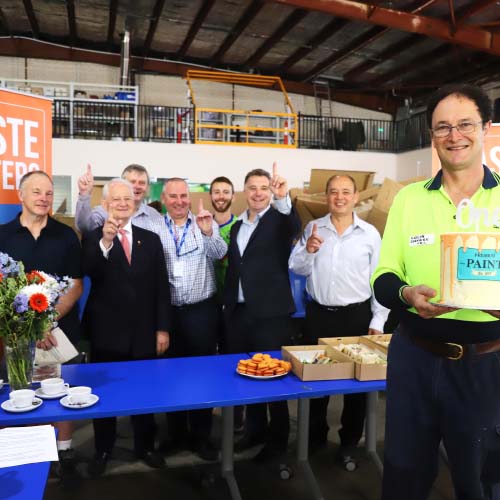 Hornsby Shire Council's Community Recycling Centre has more than one reason to celebrate its first birthday this month – the community recycling service has exceeded all expectations.
Over the past year the Community Recycling Centre in Thornleigh has assisted over 16,000 customers to safely dispose of their problem waste, including over 500,000 plastic bags, over 110,000 kg of e-waste and more than 70,974 kg of paint tins.
"We are very pleased with how well the Community Recycling Centre has been received," Hornsby Shire Mayor Philip Ruddock said.
"We have a community of keen recyclers in our Shire and it's great to see how we all work together to reduce landfill, promote waste recycling and help to protect the environment."
The Community Recycling Centre is a purpose-built drive-through facility at Thornleigh, providing Hornsby Shire residents with a convenient way to drop off a range of items that are not suitable for household bins.
It is easy, safe and (best of all) free of charge.
Items accepted at the Centre include:
fire extinguishers
gas bottles
motor oils
e-waste
mobile phones
paint
spray cans
smoke detectors
printer cartridges
light globes
household and car batteries
plastic bags
plastic packaging
"Many of the items, which we see properly disposed of at the Community Recycling Centre, are highly hazardous items when they end up in landfill or – worse – are illegally dumped in our bushland," Mayor Ruddock said.
A complete list of items accepted at the Community Recycling Centre are listed on the website http://hornsby.nsw.gov.au/crc.
However, poisons and hazardous chemicals cannot be dropped off at the Community Recycling Centre, but can be taken to one of the regular Chemical Clean Out events run by the EPA all across Sydney.
"We are proud to celebrate this first birthday with the community," Mayor Ruddock said.
"And as a little thank you, everyone who drops off problem waste at the Community Recycling Centre in December will receive a Hornsby Shire reusable shopping bag (while stocks last)."
The Community Recycling Centre is located at 29 Sefton Road, Thornleigh.
It is open every week from Tuesday to Friday, 8.30am to 4pm, and on Saturdays from 8.30am till noon. It will be closed from December 25 until January 1 over the holiday period, reopening Wednesday 2 January 2019.
For more information visit hornsby.nsw.gov.au/crc
Hornsby Shire Mayor Philip Ruddock and Councillors celebrate the Community Recycling Centre's first birthday with Supervisor Colin Cheshire