Get inspired at Hornsby Shire's Festival of the Arts
Publish date: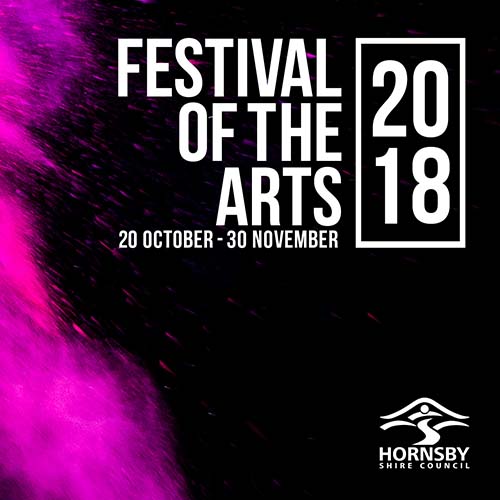 Put your smock on, get your brushes out and be prepared – Hornsby Shire will be turning into a giant canvas with Festival of the Arts this October and November.
From 20 October to 30 November there will be plenty of opportunities to take in local art and culture at its best.
"Festival of the Arts is at Hornsby Shire's heart of culture," Hornsby Shire Mayor Philips Ruddock said.
"There is so much to see, listen and do this year; it will be a feast of creativity and art, featuring some of the Shire's most talented artists."
Festival of the Arts is kicking off on Saturday, 20 October, with the 9th Hornsby Art Prize Award Night at Wallarobba Arts and Cultural Centre.
The Hornsby Art Prize is an annual art competition and exhibition. It is organised and sponsored by Hornsby Shire Council and delivered in partnership with the Hornsby Art Society.
Have your say on the best in show artwork of 2018 with the People's Choice Award. This year's categories are painting, drawing, printmaking, 3D works and, for the first time, digital art stills.
The Hornsby Art Prize Exhibition 2018 will be followed by last year's winners' solo exhibitions.
From 30 October, winner of the Wallarobba Outstanding Local Artist Award, Lyndall Beck, will invite visitors to join her on a journey through time and place, memory and change in Hornsby Shire.
The winner of the 2017 Hornsby Shire Emerging Artist Award, Cheltenham artist Samantha Wiltshire, will show her works at Wallarobba Arts and Cultural Centre from 27 November to 2 December.
"Festival of the Arts is not only showcasing some of the works of our Shire's finest artists," Mayor Ruddock said.
"It is also provides wonderful opportunities to bring our shire together, connect different art forms and ideas, and inspire, provoke and engage our community on so many levels.
"This year's program offers a whole palette of events inviting you all to watch, see and do.
"There are also plenty of opportunities to join in - with questions and feedback at artist talks, making your own print artwork at the Print Studio or enjoying a day out following the Arcadian Artists' Trail, to name only a few highlights of this year's Festival of the Arts."
For more information visit www.fota.com.au