Council halfway to planting 25,000 trees
Publish date: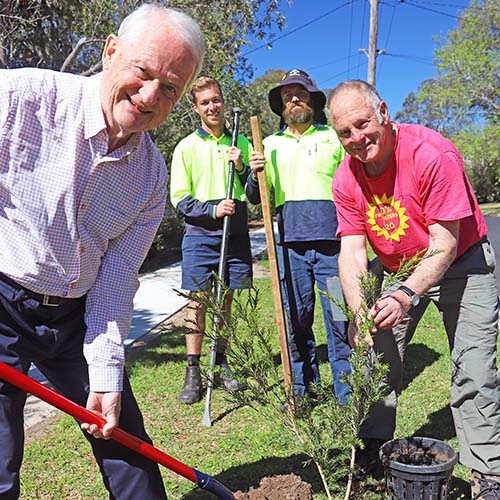 Hornsby Shire Council is officially halfway towards reaching its goal of planting 25,000 new trees by September next year.
Hornsby Shire Mayor Philip Ruddock and Councillor Mick Marr yesterday planted the 12,500th tree in Berowra Heights.
"This is a significant milestone towards completing one of Council's most important initiatives," Mayor Ruddock said.
"It is proof that Council cares about the challenges facing our community and is willing to address them through tangible actions rather than grand declarations.
"It is a massive step up from the 2,000 trees that were previously being planted each year.
"Increased tree canopy brings a vast range of benefits, which go far beyond the obvious assistance to our natural environment.
"It also brings real improvements to local quality of life, such as cleaner air and cooler summer temperatures.
"I would like to commend Council's staff for their excellent work in making this vision a reality, as well as the many community volunteers who have offered invaluable support."
PHOTO: Hornsby Shire Mayor Philip Ruddock and Councillor Mick Marr, planting the 12,500th tree with the assistance of Council staff members Brendan Martin and Duane Artis.