Work begins on Wisemans Ferry boat ramp
Publish date: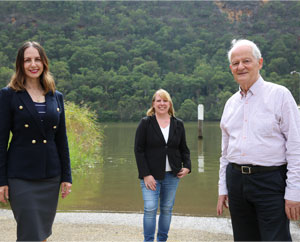 Hornsby Shire Council, The Hills Shire Council and the NSW Government are joining forces to build a new boat ramp at Wisemans Ferry.
The new ramp will have three lanes, each four metres wide, and will greatly increase the ability of boaters to enjoy the river.
The project is being managed by Hornsby Shire Council, which will also maintain the boat ramp once it is built, while the bulk of the construction funds are coming from The Hills Shire Council and the NSW Government.
Hornsby Shire Mayor Philip Ruddock said it is a great example of various levels of government working together for the local community.
"This is a much needed task that none of us could easily do on our own," Mayor Ruddock said.
"Working together, we are able to give the people exactly what they need."
Mayor of The Hills Shire Council, Clr Dr Michelle Byrne said Wisemans Ferry is one of the region's main tourist hubs and with many people now travelling local the Hawkesbury River is becoming even more popular.
"Access is vital to allow more and more people to enjoy the River and its recreational benefits," Mayor Byrne said.
"This new boat ramp, along with the improved parking facilities, will make it easier for water craft and will provide a place where residents and visitors can enjoy the river and its surrounding environment.
Member for Hawkesbury Robyn Preston MP described the ramp upgrade as a benefit to the entire local community.
"It is not just boat owners who will be helped by this impressive piece of infrastructure," she said.
"It is going to attract many tourists to this iconic destination, which is great for the local economy and everybody who depends upon it."
IMAGE: MP Robyn Preston, Mayor Michell Byrne and Mayor Philip Ruddock at the current boat ramp.