Work begins on $9 million upgrade to revitalise Mark Taylor Oval
Publish date: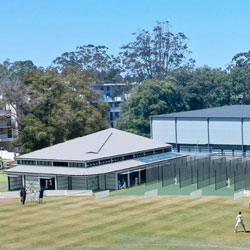 Hornsby Shire Council today begins work on the first stage of a $9 million upgrade to Mark Taylor Oval in Waitara (in Sydney's northern suburbs) to improve sports and community facilities and create a Cricket and Community Centre.
In March 2019, the NSW Government announced a $9 million funding commitment for Council and the Northern District Cricket Club to partner in upgrading sporting facilities at Waitara Park.
The three-stage upgrade will include:
the complete reconstruction of the Mark Taylor Oval playing surface,
construction of a new indoor Cricket Centre of Excellence for community-based use, and
a new pavilion incorporating seating, universal changerooms, clubrooms for cricket and rugby, a general community space and meeting rooms.
The first stage of upgrading the Oval's playing surface is being delivered by Council and includes ground levelling, building new drainage and irrigation systems, new perimeter netting to help retain balls within the Oval, and making a new cricket pitch.
During the playing surface upgrade, the Oval will be closed for use, however, the circuit path and all other facilities will remain open.
"Council is starting work now to get new turf laid in time for summer, so the playing surface is available early as possible," explained Hornsby Shire Mayor, Philip Ruddock.
"We know that local residents have been enjoying the Oval for exercise during COVID lockdown. So, while work is underway on Mark Taylor Oval, I encourage you to access nearby James Park in Lowe Road whose lights will be switched on for exercise in the evenings from 5pm-8pm.
"James Park is just 17-minutes' walk from Mark Taylor Oval."
Other nearby spaces available for exercise include Willow Park, Hornsby Park and Orara Park.
"The revitalisation of Mark Taylor Oval will ensure its future as a hub for elite cricket in Sydney's north, supportive of the increasing participation in cricket by women and girls, and with its new indoor centre being a venue for coaching and training, opening new pathways for local sporting talent.
"Nearby residents will also be able to enjoy the improved turf surface when the ground is not being used for sports.
"Council greatly appreciates the involvement of our project partners, the Northern District Cricket Club and the NSW Government, in this exciting first stage of the project," said Mayor Ruddock.
In addition to the $9 million investment in the project by the NSW Government, Council is contributing section 7.11 funds towards stage one, with an additional $200,000 from Cricket NSW and Cricket Australia contributing to the indoor centre and pavilion.
Image: Photomontage showing the new pavilion to be built at Mark Taylor Oval in Waitara in Sydney's north.