Viva la Westside Vibe
Publish date: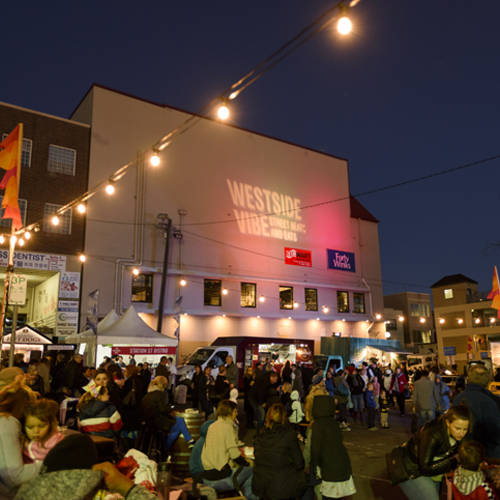 Hornsby's Westside Vibe is back – this time Hornsby's popular street festival returns with a Mexican fiesta twist on Friday 17 May.
Colourful latino-themed decorations, paper art and sombreros will transform the area around Hornsby's Dural Lane into a Mexican village for one night.
Hornsby Shire Mayor Philip Ruddock is looking forward to the festival, which last year was one of the most successful events in the Bushland Shire.
"The fiesta feel adds to the vibrancy and diversity of this festival," Mayor Ruddock said.
"Westside Vibe has attracted more and more visitors each year and we expect this one to be the biggest and brightest event yet."
The fifth Westside Vibe is bringing the Mexican heat to Hornsby for a night and invites visitors of all ages to indulge in the rhythm, creativity, colour and fun of Hornsby's most street festival.
And what would a Mexican party be without music, cocktails and the flavours of global cuisine?
Local musicians Sabrina Belle Duo will set the mood with catchy acoustic rhythms, and high energy performers Sexy Sunday Jam and Gang of Brothers will take over to get everyone off their feet and dancing to funky and fresh beats as the party goes on.
As a bonus, festival visitors will also get an exclusive sneak peek into the much anticipated upcoming production of Berowra Musical Society's 'Catch Me If You Can'.
Just as diverse as the entertainment, Sydney's best food trucks will feature a variety of delicious street food and pop-up bars, including Mt Kuring-Gai icon Ekim Brewing Company and Kombucha On Tap, as well as El Taco Loco, Burger Hounds, The Flying Vegan, Churros La Flamenca, Diego's Donuts, and much more.
"This year we've changed the set-up of the festival layout and expanded the alcohol licenced area to cover all of the festival grounds," Mayor Ruddock said.
We have also added more seating, especially in the cosy corners around Dural Lane."
Roving performers, eclectic and diverse market stalls, as well as various kids activities and workshops will add to the creative vibe of the festival.
Westside Vibe will take place on Friday 17 May at Hornsby's Dural Lane, from 4pm to 9pm.
For more information visit hornsby.nsw.gov.au/westsidevibe
Images: Westside Vibe 2018