Storey Park community hub now open
Publish date: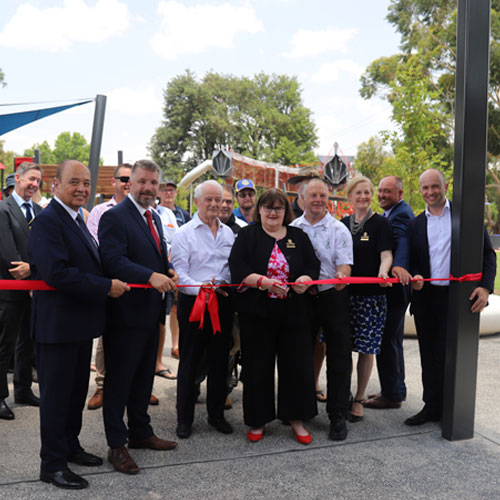 Hornsby's brand-new community centre and playground at Storey Park opened with a bang this Australia Day.
Despite the heat, more than two thousand people joined Hornsby Shire Council in celebrating the long-awaited opening of the new community hub in Hornsby, right on the border of Asquith.
The first visitors to enjoy the new Storey Park Community Centre were the 63 people who formally pledged their loyalty to Australia and became citizens on Australia Day.
"This new facility is a great asset for the community, and it was fantastic to see how many local residents and clubs helped us celebrate," said Mayor Ruddock, who officially opened the new Storey Park community hub alongside his fellow Councillors and local MP Matt Kean.
In addition to a multicultural stage program and various kid's activities organised by Council, the Lions Club of Hornsby, Magpies Junior League Club, the Hornsby Ku-ring-gai & Hills District Cricket Association, Asquith Rugby League Cricket Club and Asquith Bowling Club all chipped in with a variety of sport displays and community activities.
The visitors also enjoyed a first peek into the new Storey Park Community Centre, which is now available for hire.
The centre features four multi-purpose rooms of varying sizes, all equipped with kitchenettes, microwaves and fridges.
In addition, Storey Park's new state-of-the-art facilities include:
park facilities with a children's bike path
plenty of shade and seating
barbecue and picnic areas
onsite parking
fully landscaped surrounds, including over 100 new trees
a fenced inclusive play environment for various age groups, featuring an adventure area
and shade-covered play equipment for younger children
"I am particularly pleased to see how well the new playground has been received since its opening only a few days ago", Mayor Ruddock said.
"The large grassed areas lend themselves to a relaxed afternoon with picnics, and the many shaded seating areas in addition to the variety of inclusive play equipment makes this park inviting for people of all ages and abilities."
For more information visit hornsby.nsw.gov.au/storeyparkcc