Retain your title as champion phone recyclers
Publish date: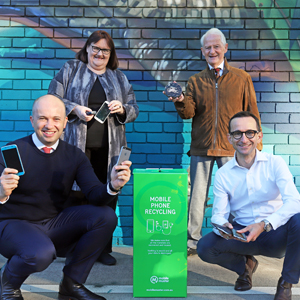 The MobileMuster is back again and Hornsby Shire Council is calling on all residents to help defend our title as Australia's mobile phone recycling champions.
"For a number of years Hornsby Shire residents have been the best mobile phone recyclers in the nation and we want to claim the top position again," Hornsby Shire Mayor Philip Ruddock said.
"It is estimated there are more than 24 million mobile phones not being used in Australian homes, with about 5 million of them broken, so we're confident there are still plenty in our local area that can be recycled."
Head of MobileMuster Spyro Kalos describes the project as a major step towards the circular economy that is the ultimate goal of all recycling initiatives, with the hope that all goods will one day be produced with recycled material.
This year's campaign is GO FOR ZERO: zero waste, zero hassle, zero footprint.
"As consumers we have a key role to play in the circular economy," Mr Kalos said.
"Rather than storing that old phone, think about how you can extend its life by selling or passing it on to someone in the family.
"If it doesn't work, well then it is really time to let it go and recycle it with MobileMuster."
Recycled phones yield a massive amount of precious metals such as gold, copper, silver and palladium.
More than 95 per cent of each phone can be used again, meaning those materials do not need to be mined or produced.
Recycling an old mobile phone is free and easy.
You can either drop it off at your nearest collection point or have a mailing satchel sent to your home.
Visit mobilemuster.com.au to find out more.
Image: Member for Hornsby Matt Kean, Councillor Janelle McIntosh, Hornsby Shire Mayor Philip Ruddock and Head of MobileMuster Spyro Kalos at last year's Mobile Muster Award presentation.