Recycling Centre saves 1,600 tonnes of waste in three years
Publish date: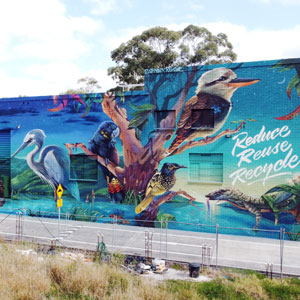 Hornsby Shire Council is celebrating the third birthday of its Community Recycling Centre (CRC), which has collected more than 1,600 tonnes of household problem wastes.
The CRC, located at Thornleigh, has been able to save all of this material from landfill and illegal dumping.
"I was there when the centre opened and I remember how impressed I was with the operation, but its results have exceeded all of our expectations," Hornsby Shire Mayor Philip Ruddock says.
"This success is largely due to the excellent staff at the centre, who are always friendly and helpful.
"In a recent survey 100 per cent of visitors to the CRC said they would recommend it to their friends and family – polling results literally don't come any better than that.
"However, it's not just the staff who deserve special commendation but also the residents who have taken the time to properly dispose of their recyclable waste.
"We are facing many challenges as we strive to make our society environmentally sustainable and the best initiatives always heavily involve the community.
"Thank you to everybody who has taken part in helping us achieve this phenomenal success and I hope you will all continue to do so into the future."
The drive-through facility at the CRC has been particularly popular, with more than 72,000 cars visiting since its opening.
It's also a hub for sustainability, where residents can collect compost bins and worm farms while dropping off their problem waste.
One of the great benefits of the CRC is that it keeps toxic materials out of landfill, as well as reducing the need to mine metals such as copper, lithium and gold.
The CRC is continuing to expand its operations, this year adding clothing and polystyrene to the list of collectable items.
It was briefly closed due to COVID-19, but that time was put to good use – artists Scott Nagy and Krimsone painted a stunning mural on the side of the building (picture attached).
Materials collected by the CRC since opening include:
35 tonnes of hazardous waste
572 tonnes of cardboard
477 tonnes of e-waste
318 tonnes of paints
24 tonnes of soft plastics (equivalent to 6.3 million plastic bags)
63 tonnes of car batteries
60 tonnes of motor oil
16 tonnes of clothing