New plaque acknowledges local First Nations
Publish date: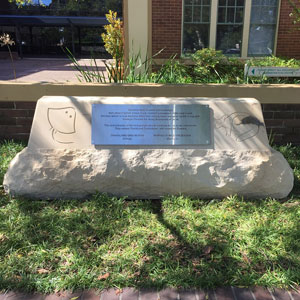 Another successful NAIDOC Week is coming to a close, the perfect time to publicly announce the placement of a new plaque in front of Hornsby Shire Council chambers that acknowledges the important place of local First Nations people in our cultural heritage.
The plaque was installed earlier this year, with plans to hold a smoking ceremony and Welcome to Country to mark the occasion, however COVID-19 restrictions have made that impossible so far.
A formal ceremony will occur as soon as COVID-19 restrictions permit.
The plaque replaces a similar plaque that was removed from Hornsby Park when the Captain Cook memorial fountain needed to be removed for construction of the new pool.
The original plaque was there to give proper context to the fountain, acknowledging that the land he "discovered" was already inhabited.
GuriNgai elder Auntie Tracey Howie welcomes the plaque.
"It's a great piece of artwork, to begin with," she says.
"It's a great thing to have out the front of the building, rather than in the park, because it really shows the partnership that Council has with the local Aboriginal community and the traditional owners.
"Also, I think it will encourage people of Aboriginal descent who move into the Shire, it will be a really nice welcome for them."
Leanne Watson, from Darug Custodian Aboriginal Corporation, fully agrees.
"I like that it is in a more prominent position and reaffirms the connection that Council is aiming to have with the traditional owners," she says.
"It is an important example of truth telling, a sign that we are continuing to move forward on the issue of reconciliation."
The plaque is fixed to a sandstone base that features hand-carved animals representing the totems of the GuriNgai and Darug tribes.
The plaque reads:
"Hornsby Shire Council acknowledges that when Captain James Cook claimed possession of the east coast, the land which is now Hornsby Shire had already been occupied by the Darug and GuriNgai Peoples for many thousands of years. The descendants of the Indigenous people continue to live in our community. They remain Traditional Custodians – still caring for Country."
The original plaques from the fountain have been kept by Council as an historical record and are on display inside the Council Chambers.