New Gateway and Suburb Signs for the Bushland Shire
Publish date: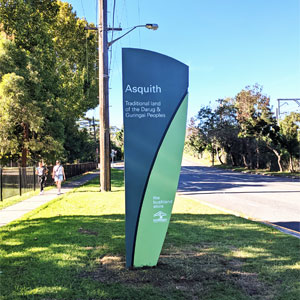 Hornsby Shire is one of Australia's greenest places, and this is now also reflected in Council's new gateway and suburb signage.
The design of the new signs responds to Hornsby's Bushland Shire character with a two-tone motif reminiscent of the gum leaves that are prominent within the local bushland.
"We are proud to be the Bushland Shire and the community feedback clearly indicated that new signage should reflect Hornsby's bushland character and wealth of natural resources," Hornsby Shire Mayor Philip Ruddock said.
"The new signs also display the recognition of the traditional owners of Hornsby Shire lands, the GuriNgai and Darug Peoples, in a very prominent position."
The total of 25 new signs come in three different forms:
Vertical gateway markers that announces entry to the Shire, placed at key entry points;
Vertical suburb markers that mimics the gateway sign at a smaller scale and will be located primarily along major transport routes; and
Lower, horizontal gateway signs that respond to the wide-open spaces in the Shire's more rural localities
"The modern signage is clear and well designed, easy to read, and provides both residents and visitors alike a sense of the Shire's character," Mayor Philip Ruddock said.
"It is good to see the time-worn hoop-style signage of the past being updated after over 20 years in place."
The new signs will be installed over the coming weeks to be completed by May 2021.