Joining forces to keep our waters clean
Publish date: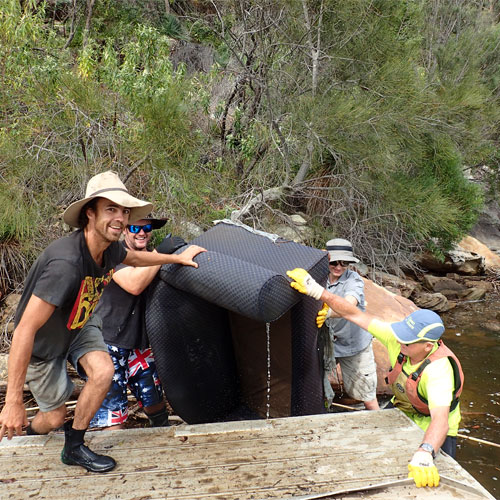 Hornsby Shire Council has joined forces with local oyster farmers and a range of environmentally-minded organisations to help keep our waterways clean.
Last week they all came together for a clean-up of the Hawkesbury foreshore, part of the Tide to Tip initiative that has been organised by OceanWatch Australia.
"We are very grateful for the leading role oyster farmers play in keeping our waterways clean," Hornsby Shire Mayor Philip Ruddock said.
"They are truly committed to this task, not just because their livelihood depends upon it but because they love the waters they work upon.
"In many respects the oyster farmers are the canaries in the mine and they often act as Council's eyes and ears when assessing the health of the waterways.
"Nobody knows this part of the Hawkesbury River better than they do and it makes sense to work in close partnership with them as we secure its future health."
Hornsby is the only council in New South Wales that has a memorandum of understanding with the oyster industry.
According to oyster farmer and Shellfish Quality Assurance Program coordinator Bruce Alford, everybody is eager to do what they can to help.
"Working in the environment that we do, we understand that any type of pollution has its effects on a river system, not just for farmers but for all users of the river," Mr Alford said.
"Rubbish floating around the river and on its banks is something that we can be proactive about and do our bit for the environment and our community"
The waste collected from the river and foreshore is audited and the data placed in the state-wide Australian Marine Debris Database
Almost one tonne of waste was gathered on the first day of collection last week.
The Tide to Tip program is supported by OceanWatch Australia, Clean Up Australia Day, Hornsby Shire Council, Clean4Shore, NSW Local Land Services and the NSW Landcare Program.