Hornsby Shire trucks drive home inspiring waste reduction messages!
Publish date: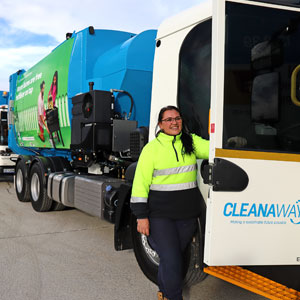 Hornsby Shire Council is putting 28 waste collection trucks to extra use as educational 'mobile billboards' to promote important waste avoidance and resource recovery messages.
Each side of the trucks features large, colourful designs:
to encourage recycling
to inspire repurposing and reuse of household items
home composting and worm-farming
sustainable fashion and 'smart shopping', along with messages
discouraging littering and illegal dumping.
The waste collection trucks' eye-catching new livery was revealed at Council's depot in Mt Kuring-gai on Saturday 19 June to an enthusiastic reception from Hornsby Shire Mayor Philip Ruddock, Councillors and Council waste staff.
"Our staff were inspired by Council's recent Waste Community Consultation Report and 'Waste Matters' Strategy to identify key waste-reduction message themes, which were then used to develop the new truck livery," Mayor Ruddock said.
"Council's waste, and communication and engagement teams collaborated with an external agency to translate key educational and behavioural-change messages into creative, eye-catching designs featuring high-quality professional photography and graphics."
The recent signing of a new waste collection contract with the Cleanaway waste management company, starting on July 1, presented a great opportunity for Council to use the truck sides creatively.
"The fleet of trucks look terrific – but more importantly, they will now help deliver important reduce, reuse, recycle messages while our dedicated waste collection staff go about their essential work," Mayor Ruddock said.
The trucks with their new livery will be coming to a Hornsby Shire street near you, soon!