Hornsby Shire Council unveils $27.9 Million first stage for Hornsby Park and progresses plans for Westleigh Park
Publish date: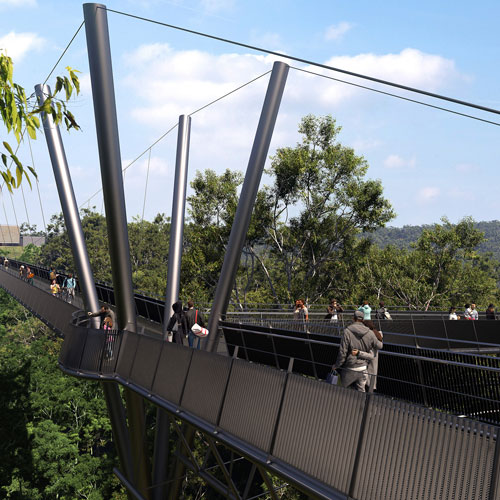 At its general meeting, Hornsby Shire Council last night took significant steps forward in the delivery of its two major projects at Hornsby and Westleigh Parks. Councillors determined to progress Hornsby Park by delivering an impressive canopy skywalk and cable bridge through the trees in 2024. They also voted to publish the revised draft Westleigh Park Master Plan and place the draft Plan of Management on public exhibition.
As per the Master Plan adopted in July 2021, Hornsby Park will become a major recreation destination which will be delivered in stages. Following extensive groundworks at the site, Council has responded to our community's desire to be able to visit and enjoy the site as soon as possible by committing to deliver the first stage of the project.
The almost $28 million attractions will feature an impressive 400m canopy skywalk and cable bridge linking Hornsby Town Centre with the site of the old Crusher Plant on a fully accessible pathway immersing visitors into the bush. In this stage, Council will also begin developing the area around the Crusher Plant with a lookout, a lawn and play area, car park, and toilet facilities . Plans also include additional bushwalking tracks and trails leading to two more lookouts to the west and north-west of the site. The first works are targeted to be open to the public in 2024.
"We are pleased that the first stage of this important project will be available next year for the community to enjoy. We have been working hard behind the scenes to make the site safe and preparing it for future uses. While the project as a whole will develop over time, we are excited that this new skywalk will give people to the opportunity to experience this unique destination of outstanding natural beauty and see this huge project taking shape," said Hornsby Shire Mayor Philip Ruddock.
"Delivering the project within a financially responsible framework is critical and we have worked with staff to ensure that we have safeguards in place to minimise any risk."
Also at the meeting, Councillors voted to publish the revised draft Master Plan and endorsed the draft Plan of Management for Council's other major project, Westleigh Park, for exhibition.
Following extensive community engagement in 2021, Councillors deferred adoption of the draft Westleigh Park Master Plan to allow time to address concerns around the extent and location of mountain bike and traffic generation around the park. Since then, we undertook further engagement and held co design workshops for the mountain bike trails with key stakeholders from the mountain bike and environmental protection groups. We also held workshops about the proposed extension to Sefton Road.
The revised draft Master Plan is available to view from 13 March for 28 days on yoursay.hornsby.nsw.gov.au
"As a Council, it is imperative that decisions we take are guided by our residents. I am proud that our extensive community engagement and work with reputable ecological consultants has led the design of a bike trail network that ensures the long term protection of this precious bushland, while still providing a quality riding experience. All of the community's views are important to us and this proposal has been prepared to support a future development application on the site which will be assessed by an independent body," Mayor Ruddock said.
The draft Westleigh Park Plan of Management outlines controls for future use, development and maintenance of the site and establishes our goals, strategies and desired outcomes that will guide the timing, shape and nature of developments. It will be on public exhibition from 13 March and residents are invited to provide their submissions until 23 April at yoursay.hornsby.nsw.gov.au
Also at last night's meeting Council:
Determined to prepare tender documentation for the provision of renewable energy infrastructure that could be installed at Hornsby Park and/or Westleigh Park that will help support the delivery of these master plans, assist with the transition to a lower carbon future and bring additional funding to Council
Determined to engage the NSW Electoral Commission to administer its 2024 election
Endorsed the High and Ashley Street Planning Proposal, determined to submit it to the Department of Planning and Environment for finalisation and endorse the Hornsby Development Control Plan 2013 amendments
Endorsed a Notice of Motion by Councillor McIntosh regarding Trove funding. Council determined to make representation to and write to a number of members of Federal Parliament calling for sustainable funding to ensure the continuation of free access to the Trove national database and upgrade of the digital archive systems of Trove and encourage the community to do so also.
The full agenda of the meeting, along with details of each item discussed, can be found at hornsby.nsw.gov.au. The video recording of the meeting will be available from tomorrow afternoon.