Hornsby Council to phase out single-use plastics by 2022
Publish date: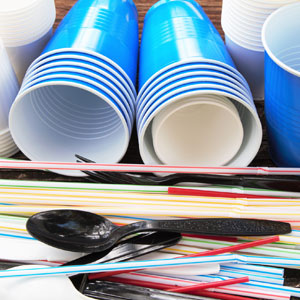 Hornsby Shire Council has adopted a policy on single-use plastics, aiming to phase them out of Council operations and large community-run events by 2022.
"Single-use plastics make up a large proportion of litter in NSW and they cause enormous damage to the environment," Hornsby Shire Mayor Philip Ruddock says.
"They do not biodegrade and have been proven to cause significant harm to people and the environment, particularly when they break into smaller micro-plastics.
"Phasing out their use is one small step that can be taken to improve the health of our communities and local ecosystem."
Single-use plastic items include plastic water bottles, drinking straws, bags, coffee cups with plastic lining, food containers, eating utensils and balloons.
As well as Council's general operations, the policy is aimed at community-run events with more than 300 people attending.
Council has developed a waste management guide for events, giving detailed guidelines on alternatives to single-use plastics.
These include suggestions to use paper straws, wooden stirrers and calico bags to replace plastic items, as well as reusable bunting instead of balloons.
Some of the steps will be dependent upon ongoing COVID-19 restrictions and safety guidelines.
Event organisers will be provided with a list of suppliers of more sustainable items and services.
"It's now abundantly clear to anybody paying attention that our current way of living is not sustainable," Mayor Ruddock says.
"This is one small step Council has taken, backed by extensive scientific research, to help ensure that we leave behind a habitable world for our children and grandchildren."
To find out more about Council's sustainable waste management policies, and learn what you can do to help, visit www.hornsby.nsw.gov.au/property/waste/single-use-plastics-policy.