Hornsby Art Prize winners announced
Publish date: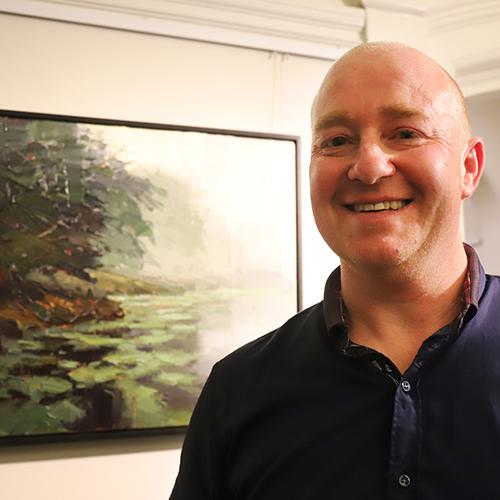 The winners of the annual Hornsby Art Prize were announced on Saturday night under very trying circumstances that included a blackout and partial flood of the Wallarobba Arts and Cultural Centre.
"The weather made it quite a dramatic evening for the staff and volunteers organising the event but luckily no artworks were damaged in the course of the storm" Hornsby Shire Council arts and cultural development officer Joanna Joyce said.
"They did an excellent job despite facing a number of significant challenges and deserve high praise for being able to ensure such a great night was had by all."
The top winner of the night was Clifford How, who took out the Major Award with his painting Forgotten Pond 2.
"The judges were impressed by the way this painting works on a number of levels," Ms Joyce said.
"They spoke of the clarity of the message in this subtle, yet powerful composition."
Ross Philip was named the Wallarobba Outstanding Local Artist for his 3D work Sweet Success.
"This work elicits an immediate physical, emotional and psychological response on many levels; pain, fragility, endurance, perseverance and determination," the judges said.
Other winners included:
Hornsby Shire Emerging Artist - Ben Walsh
Digital Art (stills) - Tamara Whyte
Painting – Paul McKnight
Drawing – Stephen Hall
Printmaking – Dean Brown
3D works – Kay Donaldson
Honourable mentions – Marjatta Kaukomaa, Janine Eddison, Jenny Pollak, Marieke Dench, Hyun Jin Lee, Jacki Fewtrell-Gobert, Lana Wilding and Assaf Carmeli.
The Hornsby Art Prize finalists will remain on exhibition at Wallarobba Arts and Cultural Centre until 28 October.
"I strongly urge everybody to come and see these extraordinary works of art," Ms Joyce said.
"I have been involved with the Hornsby Art Prize for a number of years now and these are among the best I have seen."
IMAGE: Clifford How who wne the Major Award with his painting Forgotten Pond 2.