Farewell to Berowra Library after 40 years of service
Publish date: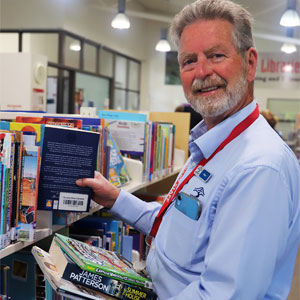 It's the end of an era at Berowra Library, with Mike Southam about to retire after 40 years of dedicated service.
When he first started there in October 1980 there was a single computer, not accessible to the public, that could only return 12 books at a time and had no record of the books in other libraries.
The job has changed a lot in that time, but his passion for it has not.
"It's been great, I've loved every minute of it," Mike says.
"I found when I got the job at the library that this is what I've always wanted to do. This was my natural spot.
"I've just really enjoyed what I do, helping people find out things and encouraging people to read."
It's fascinating to hear Mike talk about the way the library's role has changed over the decades.
For instance, they used to do a lot more work with school children but that has become less necessary as schools have built up their own libraries and information has become available online.
There was once a widespread belief that the internet would make libraries redundant. That certainly hasn't happened, but their role has changed somewhat.
"We've become a bit of a meeting place, providing a place for book clubs, knitting groups and the like," Mike says.
"And many people still prefer to read print. They might travel with their iPad but they'd rather have an actual book in their hands.
"There are also a lot of our older customers who don't have computers and the libraries are where they go.
"We have a lot of interaction with them, getting them started and helping them set up email accounts and things like that."
So what has Mike loved most about the job?
"You'd never know what somebody was going to ask you, you had to be ready for anything and in the pre-computer days a lot of it had to come out of your head.
"There was a lot of satisfaction in helping somebody find that bit of information or that book they were looking for.
"So I suppose the best part has been the interaction with customers because I get a lot back from them.
"I will also miss my colleagues, some of whom I have known for many years and all of whom have always given me great support."
Mike plans a quiet retirement, with plenty of golf, gardening and travel. His first grandchild is due in January, which he's very much looking forward to.
He'll still be visiting the libraries, though, and says he will miss the customers most of all – many of whom he has watched grow up.
"Once a woman who'd I'd helped as a young girl told me that in a very changing world it's nice to have some continuity – which is a very nice way to say, 'Gee, you've been here forever!"