Entries open for 2021 Remagine Art Prize
Publish date: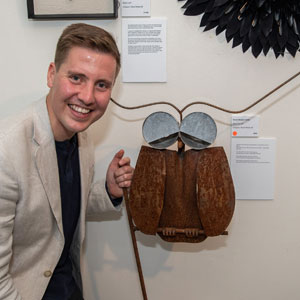 It's that special time of year once again when environmentally friendly artists compete for Hornsby Shire Council's Remagine Art Prize.
Remagine is currently calling for entries, with $11,000 in prize money.
The theme this year is "Fast fashion, fast food, fast running out of resources".
"This is always a highlight of the Shire's cultural calendar and we look forward to it every year," Hornsby Shire Mayor Philip Ruddock said.
"There are few better ways to speak to the community than through art.
"The goal is no longer convincing people that there is a threat; everybody is aware of that.
"The goal now is to convince people that there are alternative ways we can live, allowing us to achieve a more sustainable existence on this planet."
There are three categories this year:
Digital Art – Stills
Mixed Media 3D/Mixed Media 2D
Painting/Drawing/Printmaking.
There is also a new Youth Award, for people aged 16 to 18 years, and the People's Choice Award.
Remagine is held in partnership with Hornsby Art Society and has been running since 2009.
"Over more than a decade this excellent event has evolved into a thought-provoking channel, allowing artists to express ideas about waste, consumption and the environment," Mayor Ruddock said.
"Even better, they get a chance to demonstrate firsthand that there are far better second uses for items than throwing them in landfill."
Entries will close on Monday 17 May 2021. The exhibition will be held at Wallarobba Arts and Cultural Centre from 4 to 20 June 2021.
For more information and to enter visit hornsby.nsw.gov.au/remagine
IMAGE: 2019 Remagine winner Daniel Nolan with his work Wise Old Owl.